Follow that bird…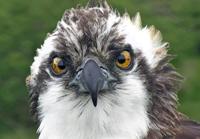 Osprey
Earlier this week researchers at Aberystwyth University's Institute of Biological, Environmental and Rural Sciences (IBERS) began the first detailed tracking of Welsh osprey migration as Ceulan, this year's sole surviving chick from the Dyfi nest, departed for West Africa early on Monday morning.

With GPS data available every 48 hours the team are able to conduct an almost real-time migration study of a Welsh-born osprey for the first time. By Thursday, Ceulan had crossed the Bay of Biscay, and had made it to Portugal.

The data collected will enable researchers to begin to answer some of the key questions surrounding the mysteries of bird migration. How, for example, do ospreys prepare for migration? How do they know when it's time to leave? How do they know where to go and how to get there? What external factors influence their route, flight duration, speed and altitude?

The research has been made possible through IBERS sponsorship of solar-powered GPS trackers for Montgomeryshire Wildlife Trust's Dyfi Osprey Project.

Learning more about osprey behaviour and migration routes, their stop-over locations and wintering grounds will enable conservationists to better protect them.

GPS tracking will also help the team understand the first return migration of immature birds and how they locate back to the UK and choose future nest sites.

Vicky King, a full-time research project coordinator at IBERS, and regular volunteer with the Dyfi Osprey Project, explains "The GPS tracker unit has an operational life of approximately five years transmitting regular location and flight pattern data, enabling us to follow the bird through several seasonal migrations between Wales and Africa. This is an exciting long-term research project that will contribute greatly towards future conservation efforts."

As Professor Wayne Powell, Director of IBERS, commented, "Aberystwyth University welcomes this chance to make a positive contribution to environmental conservation."

IBERS researchers are pleased to be working in collaboration with Montgomeryshire Wildlife Trust staff in this long-term, unique research project that will make a significant contribution towards future conservation efforts in Wales and beyond.

The satellite tagged, 97-day old male osprey set off at approximately 09:26 Monday morning and by late afternoon was roosting a few miles south of Exeter, Devon having completed the first 140 miles of his incredible, and little understood, 3,500 mile solo journey to West Africa.

By midday Tuesday Ceulan had crossed the English Channel and was making rapid progress across Brittany, before starting his long flight over the Bay of Biscay at approximately 16:00. He crossed the Bay in approximately 12 hours, flying mainly at night, to make landfall on the Iberian Peninsula at around 05:00 on Wednesday morning, and had travelled deep into Portugal by Wednesday afternoon. And still, Ceulan flies on…

The osprey's migration can be followed on the Dyfi Osprey Project's official project website: http://www.dyfiospreyproject.com/tracker.