Farmers look to the future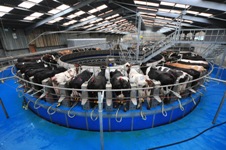 Rotary milking parlour at IBERS
The Future Farmers of Wales saw state of the art farming facilities and heard of innovative research at Aberystwyth University recently as the Institute of Biological, Environmental and Rural Sciences (IBERS) hosted a visit on Saturday 27th April 2013. The visitors had the opportunity to learn how sound, research based science undertaken in Aberystwyth is applied for the benefit of future agriculture in Wales.

The Future Farmers of Wales Club is an organisation where all invited members have either won industry or academic awards or have achieved outstanding success within Welsh agriculture. As such, they are a very influential and forward looking group.  

Professor Jamie Newbold, Director of Research and Enterprise at IBERS delivered a short presentation on both the research currently taking place within IBERS and the continuous professional training opportunities available through the Advanced Training Partnership (ATP). The aim of the BBSRC funded Advanced Training Partnerships is to strengthen specialist scientific skills in strategically important areas for the agri-food industry in the UK, through flexible, postgraduate training.

Professor Newbold said "Research conducted in isolation has little benefit: it is only valuable in helping meet the challenges facing the industry when it is taken up and applied."  

Within this context Professor Newbold outlined the activities of the ATP in Pastoral Agriculture based within IBERS and encouraged the Future Farmers of Wales to come forward with specific ideas on what areas of training they would find helpful for their own businesses.

The young farmers also heard from Professor Nigel Scollan about the establishment of the Centre of Excellence for UK Farming based within IBERS.  The focus of this initiative, involving a range of partners, is to engage all sectors of the food supply chain in knowledge exchange designed to allow the industry to meet the challenges of sustainable intensification.   

During the afternoon the visitors travelled south of Aberystwyth to visit Trawsgoed Farm where Professor Will Haresign, Director of Farms and Huw Morris, Farms Manager showed them the recent environmental compliance work undertaken at the dairy unit.  They were also able to see the new, recently completed rotary milking parlour in operation.  

The milking parlour represents an investment in excess of £1million by BBSRC. Professor Haresign commented "It was excellent to have the opportunity to exchange views and ideas with such an interested and influential group of farmers.  The new 50-point rotary parlour includes electronic identification of cows. This facilitates computer controlled in parlour feeding of concentrates to each individual as well as computer recording milk production at each and every milking.  

"This will provide us with far more detailed and accurate management information for herd management purposes, and also dramatically improves the labour efficiency of the whole milking operation."

Chairman of Future Farmers of Wales David John commented. "Future Farmers of Wales aims to see best practice and technology applied and this was evident during our visit. The emphasis on making the most from grass, was a message well received and one that is key to a profitable and sustainable future.

"Members were very impressed by the research carried out at the farm and how it will shape future nutritional plans on their own farms. The investment and commitment to dairy production was inspiring. We now need to ensure research and development is continued to further enhance the efficiency, profitability and sustainability of our farms."

The Future Farmers of Wales visit to IBERS featured on 'Ffermio' broadcast on S4C on Monday 6th May at 9.15pm.