Students reward excellent support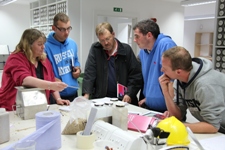 The Institute of Biological, Environmental and Rural Sciences (IBERS) is delighted to be Highly Commended for Department of the Year in the second ever Student-led Teaching Awards on Tuesday 30th April at Aberystwyth University.

Personal success also goes  to , Lecturer and Coordinator of the Agriculture degree scheme who won the Employability Impact Award. Iwan's award for employability is in recognition of the hard work he has put in to support students into employment.

Nominations for the Awards were invited from students both online and in conventional ballot boxes – a number of which were located at different locations around the University. In all over 250 nominations were received with the winners and runners up chosen by a panel of judges.

Event organiser Jess Leigh, Education Officer at the Student's Union said: "The event was big success due to buy in of staff and students. Without their enthusiasm it would not have been such as success. It was an opportunity for students to thank and reward staff from whatever part of their university life for the work they have done with them and for them and to celebrate together."

Winner of the Employability Impact Award Dr Iwan Owen from IBERS added: "I am absolutely delighted with the award. The fact that it is a student-led award is particularly important to me as recognition or acknowledgement from the students we teach is a clear indication that our efforts are appreciated.

"In addition, I am especially pleased to receive an award linked to employment and employability. Academic study cannot and should not be isolated from the world of work. Degree courses should strive not only to ensure that students are challenged academically but are also provided with the opportunities to develop the skills and contacts as well as to acquire experience of the workplace to secure employment and ensure success in their chosen career."


Congratulations to all those who received an award and those who were nominated, and thank you to the hundreds of people who made nominations.