BioBlitz: record in sight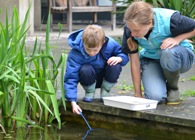 Pond dipping during the Bioblitz.
Despite the horribly cold and wet weather, the very first Aberystwyth Bioblitz which was held on Saturday 11 May has been hailed a great success by the IBERS based organisers, , Dr Pippa Moore and postgraduate student Charlie Long.
And, as the work of registering all the species continues, they are optimistic that they may yet break the record for the highest number of species recorded in 24 hours.
At the latest count (Monday afternoon 13 May) more than 2000 species had been spotted and identified, including microbes, plants, mammals, birds, insects, reptiles, amphibians and fish.
Despite the weather more than 200 enthusiasts joined experts from local interest groups who helped lead sessions, and students, many of whom worked through the day and night collating the data, sitting over microscopes to identify the various species and acting as runners and assisting on activities.
Speaking after the event, Dr John Warren, a Senior Lecture in Ecology at IBERS, said:
"You know you are part of something extraordinary when a group of twenty or so people is prepared to rise before dawn on a cold and wet Saturday morning to go hunting for bats.  They set off for two hours, ultra-sound detectors in hand, and returned still full of enthusiasm having not heard a squeak!
"The entire event took place over a frantic 24-hour period from midnight on Friday night to midnight on Saturday 11 May, with a handful of hardened fruit-bats staying awake throughout the entire day.
"Now the dust has settled on the event it's still not clear what the grand total of species is, but it's somewhere over the 2000 mark," added Dr Warren. "Those already on the database include: 1062 microbes, 450 higher plants, 14 mammals, 40 birds, 24 insects, 2 reptiles, 3 amphibians, 7 fish.  The total species list seen on the day is still rising by the hour, with between 100 and 200 lichens still to be entered, for example.  So there is a very real chance the record will fall."
"Highlights of BioBlitz included new records of spiders and centipedes. For those more attracted to the cute and cuddly, our badgers, rabbits and squirrels all made an appearance, in spite of the weather and the May Ball", added Dr Warren.
The full species count (including a full breakdown of all the species recorded) will continue to rise over the coming days as the team continues to input information into a database developed by staff at the Department of Computer Science. For the very latest information visit: http://bioblitz.dcs.aber.ac.uk.
The day's events are also set to feature on BBC Radio Wales Science Café on Tuesday 14th May, with programme presenter Adam Walton joining in the fun. http://www.bbc.co.uk/programmes/b01sdwdf.
The day's activities were also recorded by students from the Department of Theatre, Film and Television Studies.
Dr Warren added: "Finally as the event was approaching its closing hours the hardy bat enthusiasts were rewarded by sightings of two species, the Pipistrelle and Soprano Pipistrelle, and as we all know – bats are "Ultra-Sound"."