£2.76 million research for economic sustainability of oats and the milling industry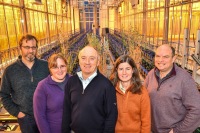 Professor Athole Marshall with oat breeding team members in the BBSRC funded National Plant Phenomics Centre at IBERS.
The Award winning oat breeding team at IBERS (Institute of Biological, Environmental and Rural Sciences) has secured new funding from the BBSRC (Biotechnology and Biological Sciences Research Council) for research aimed at further improving the nutritional value and economic sustainability of oats.
The demand for high quality food grade oats is increasing annually, driven by its proven health benefits and through product innovation by the milling and cereals industries. Despite an expanding market, the oat crop continues to be challenged by the high investments being made in alternative crops and this intensifies competition.
This new BBSRC LINK 5 year project will address some of the major challenges facing UK agriculture in terms of the sustainable production of safe and nutritious food.
Professor Athole Marshall, Head of Plant Breeding at IBERS said "This new project is strategically important, specifically in enhancing oat crop productivity, quality and nutritional composition, increasing the sustainability of crop production and understanding and exploiting genomics and the genetic diversity in plants (crop science).
This project will apply the latest genetic tools and resources, including genomic selection, to improve key traits that will increase the production and utilisation of oats, and to enhance grain yield, quality and composition.
Oats are unique in composition and enhancing the desirable nutrient traits is important to both the oat value chain and to consumers who are demanding more nutritious and healthy foods. So improving the functionality of the grain is a key economic driver.
The research facilities at IBERS include the only National Plant Phenomics Centre in the UK, and will enable state of the art high throughput breeding and phenotyping approaches to the genetic improvement of oats, focusing on yield, grain and milling quality.
The LINK project, led by IBERS, involves collaborative research between science based partners (IBERS, Heriot-Watt University and NIAB) and industry partners along the supply chain who will play a central role in evaluating the performance and quality of new oat varieties.
The industry project partners are Senova - the major oat variety development company in the UK and the British Oat and Barley Millers Association (BOBMA) representing the major oat milling companies within the UK such as PepsiCo, Morning Foods, Grampian Oats, Hogarths and SpeediCook.