Prof Colin John McInnes
BSc(Econ), PhD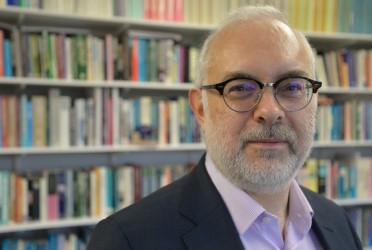 UNESCO Professor
Director of Research, Impact & Excellence
Contact Details
Profile
Colin McInnes holds the UNESCO Chair in HIV/AIDS Education and Health Security in Africa and is the University's Director of Research Excellence. He is a Fellow of the Academy of Social Sciences and a Fellow of the Royal Society for the Arts. In 2014 he was appointed by the Secretary of State for International Development as a Non-Executive Director of the UK National Commission (UKNC) for UNESCO, with special responsibility for the Social and Human Sciences, and in 2015 was elected vice-chair of the UKNC. In 2017 he received the Special Achievement Award at the inaugural Wales Social Research awards, for his 'outstanding personal achievement in research'.
Colin was a lecturer in the Department of War Studies, The Royal Military Academy Sandhurst; Visiting Research Fellow at King's College London; and Special Adviser to the House of Commons Defence Committee. He was also Chair of the British International Studies Association; a member of the ESRC's Strategic Research Board and International Advisory Committee; member of WHO's expert group on Global Health Diplomacy; and Director of the UK Research Councils' Security Research Forum. Colin currently sits on a range of advisory panels covering various aspects of International Relations and is member of a variety of editorial boards, including 'International Affairs'.He recently advised Public Health Wales on its development of an international health strategy, and the InterAction Council (a group of over 40 former Presidents and Prime Ministers) on global health issues. He was on the REF 2014 Politics and International Studies panel and is on the REF 2021 panel for both the criteria and assessment stage as well as being an interdisciplinary panel member.
He has published widely on global health issues and on security. His most recent research addresses gl
Teaching
Module Coordinator
Lecturer
Tutor
IP/GW10320 War, Strategy and Intelligence IQ32020 Global Health and International Politics IPM2120 Political, Social and Historical Research
Research
Global health politics, security and governance.
Responsibilities
UNESCO Professor of HIV/AIDS Education and Health Security in Africa
University Director of Research Excellence and Impact
Office Hours (Student Contact Times)
Tuesday 15:30-16:30
Friday 15:30-16:30
Publications
Social media communication during disease outbreaks: Findings and recommendations
McInnes, C.
& Hornmoen, H.
2018
Social Media Use in Risk and Crisis Communication.
Backholm, K. & Hornmoen, H. (eds.).
Emerald Group Publishing
'Add Twitter and Stir': The Use of Twitter by Public Authorities in Norway and UK during the 2014-15 Ebola outbreak
McInnes, C.
& Hornmoen, H.
2018
In :

Observatorio.
12
,
2
,
p. 23-46
24 p.
Old wine in new bottles? Use of twitter by established UK news media during the 2014-15 West African Ebola outbreak
McInnes, C.
2018
(Accepted/In press)
Social Media use in Crisis and Risk Communication: Emergencies, Rumors and Lifesavers.
Backholm, K. & Hornmoen, H. (eds.).
Emerald Group Publishing
From security to risk: reframing global health threats
McInnes, C.
& Roemer-Mahler, A.
2017
In :

International Affairs.
93
,
6
,
p. 1313-1337
24 p.
The changed nature of global health risks
McInnes, C.
& Roemer-Mahler, A.
2017
Understanding Change in World Politics: ISA's 58th Annual Convention.
International Studies Association
More publications on the Research Portal