Studying through the medium of Welsh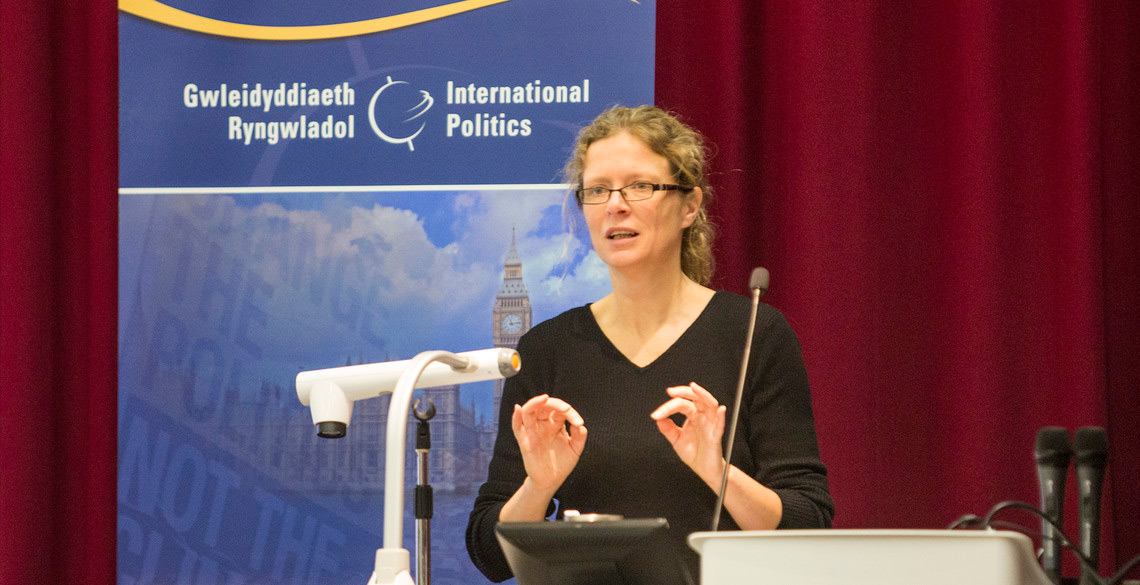 Aberystwyth University offers a high level of provision for students to be able to study through the medium of Welsh - one of the highest in Wales.
In the Department of International Politics, we offer specific Welsh-medium degree schemes: Cysylltiadau Rhyngwladol 552L, and Gwleidyddiaeth L201. It is also possible to study modules through the medium of Welsh on any of our other degree schemes.
We are committed to ensuring that you have the option of studying at least 80 credits a year through the medium of Welsh. In practice, this means that four of the six modules that you would be expected to complete each year could be studied through the medium of Welsh. The Department also ensures that all Welsh speaking students are allocated a personal tutor and dissertation tutor who can speak the language.
You are welcome to opt for the Welsh medium versions of modules every time, if that is your wish. However, it is also possible to be flexible and vary the medium of study from module to module. There is also flexibility in the language that can be used when completing assessed work. You have the option of presenting your work through the medium of Welsh or English, regardless of the modules' medium of instruction. These teaching arrangements mean that our Welsh-medium provision is open to students from a different range of Welsh language backgrounds.
Many of our degree courses are eligible for Coleg Cymraeg Cenedlaethol undergraduate scholarships. There are two different types of scholarship: the Main Scholarships are open to students who commit to study at least 80 credits (ie 4 modules) through the medium of Welsh each year, while the Incentive Scholarships are open to students who commit to studying at least 40 credits (ie 2 modules) through the medium of Welsh each year. For more information about these scholarships and for a list of the eligible degree schemes please see the Coleg Cymraeg Cenedlaethol website.
Come and meet the team
Catrin Wyn Edwards
Catrin joined the Department of International Politics in 2015, as a Welsh-medium lecturer with Coleg Cymraeg Cenedlaethol in the first instance. Her teaching and research interests cover language policy and immigration, multiculturalism, nationalism, citizenship and sub-state political parties.
Anwen Elias
Anwen Elias joined the Department of International Politics in February 2005. Her research and teaching encompasses European politics, comparative regionalism, nationalism, political parties and party systems, and pro-independence movements.
Huw Lewis
Huw joined the Department of International Politics as a member of staff in September 2009. He previously studied at the department as an undergraduate and as a postgraduate. His doctoral research, which he completed in May 2009, focused on the normative dimension of efforts to revive minority languages.

Elin Royles
Elin joined the department in 2003 and is a Senior Lecturer. Her research and teaching are associated with the areas of: Territorial Politics and Post-devolution UK politics; Sub-state diplomacy and Nation-building; Sub-state climate change & sustainable development policy; Civil society; Language planning and policy.
Lucy Taylor
Lucy is a Latin Americanist (Argentina specialist) working on questions of colonialism and citizenship in Welsh Patagonia. She is very active in Latin American studies in the UK. Until recently, she was a co-editor of the prestigious Bulletin of Latin American Research, a member of the British Academy Latin American and Caribbean Panel and was President (2011-13) of the Society for Latin American Studies, the largest academic society for Latin Americanists in Europe.
Our alumni
There is no doubt that the skills and experiences I gained by studying History and International Politics at Aberystwyth University were greatly beneficial to building my character and creating career opportunities. Studying through the medium of Welsh was a massive boost - enabling me to nurture a close and friendly relationship with staff and fellow
students.
As well as the excellent academic education, I managed to take advantage of a number of beneficial experiences, including the
Department of International Politics' famous Crisis Games, as well as periods spent on work experience with local businesses and various politicians – which helped me to hone my skills that are now useful to me in my everyday work. I also benefitted greatly from the close-knit and lively Welsh society in the university and town, and the numerous opportunities provided by UMCA and similar societies.
Aled Morgan Hughes
Welsh-medium resources for schools and colleges
We love working with the young people of Wales.
As a Department, we are very conscious of the important work that goes on in schools to ignite the interest of our prospective students in contemporary politics. The youth of today are our future, and there are a lot of important matters to be discussed at the moment, from the challenges that face the world today such as globalisation to the climate and the environment, inequality and global health. Enabling young people to become part of these discussions is essential and we would be delighted to have the opportunity to talk to them about these things.
We are therefore keen to support staff and pupils of Welsh schools by providing school visits, days on the campus and resources to enrich the curriculum in our schools.