Dr R Gerald Hughes
BA(Hons) University of Stirling PGDip University of Wales MSc(Econ) University of Wales PhD University of Wales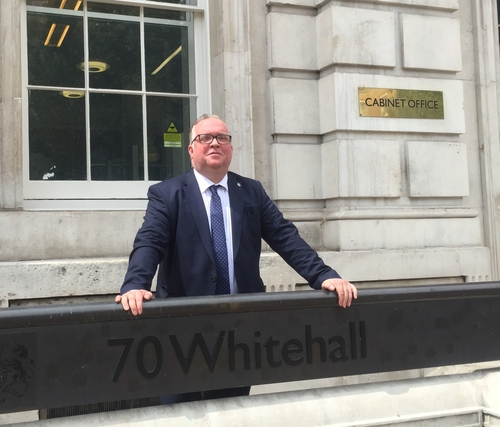 Profile
R. Gerald Hughes is Reader in Military history, also specialising in diplomatic history and the history of intelligence. He holds undergraduate and Masters degrees from the Universities of Stirling, Bangor and Aberystwyth. He was awarded a Ph.D by the University of Wales in 2000 on the subject of British policy towards West German Ostpolitik in the years 1955-1967. Hughes is the reviews editor of Intelligence & National Security, the world's leading journal on the role of intelligence in international affairs, and the editor of the Study Group on Intelligence newsletter. He is a Fellow of the Royal Historical Society.
Teaching
Module Coordinator
Tutor
Coordinator
PhD Supervision
International and Diplomatic History
Cold War History
Anglo-German Relations
Intelligence History
Military History and Strategic Studies
Research
R. Gerald Hughes is interested in a number of areas of scholarly enquiry. These are mainly concerned with modern and contemporary history. They include modern international and diplomatic history; European history; Cold War history; Military history; Intelligence history; Strategic Studies; the history of 'Appeasement'; Anglo-German relations; Anglo-Irish relations and British counterinsurgency since 1899. R. Gerald Hughes has published widely in the fields of twentieth century international history and the Cold War in Europe. He is currently working on the history of Britain and 'Appeasement' and undertaking research into political and military aspects of the Anglo-Irish War of 1919-1921.
Publications
Hughes, RG
& Hanna, S 2022, '
Journeys back along the roads to Mandalay, Imphal and Kohima: Recent contributions to the history of the Burma theatre in the Second World War
',
Intelligence and National Security
, vol. 37, no. 1, pp. 126-144.
10.1080/02684527.2021.1903674
Jeffreys-Jones, R
& Hughes, RG
2022, '
Timely memoirs and the 'British invasion': Two trends in the historiography of the CIA
',
Journal of Intelligence History
.
10.1080/16161262.2022.2051920
Hughes, RG
2021, '
Carl von Clausewitz and his Philosophy of War: The Evolution of a Reputation, 1831-2021
',
History
, vol. 105, no. 368, pp. 773-805.
10.1111/1468-229X.13085
Hughes, RG
& Shaffer, R 2021, '
The Bhutto family and Pakistan: Power, Politics, and the Deep State
',
Intelligence and National Security
, vol. 36, no. 6, pp. 925-936.
10.1080/02684527.2021.1877418
Hughes, RG
, Alexander, M
, Grove, E & Stoddart, K 2020,
Labour's Defence and Foreign Policy, 1976-79
. in JM Kevin Hickson (ed.),
James Callaghan: An Underrated Prime Minister?.
1 edn, Biteback, London, pp. 235-258.
More publications on the Research Portal