Dr Jenny Mathers
BA Mount Holyoke College MPhil University of Oxford DPhil University of Oxford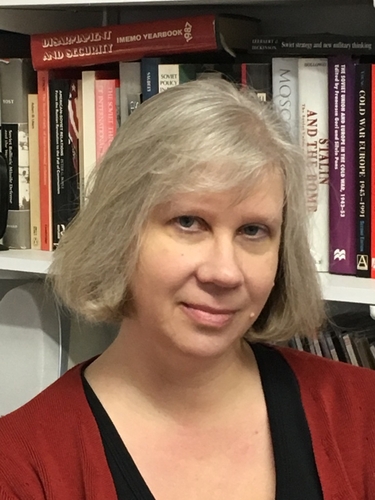 Profile
Jenny Mathers received her undergraduate degree from Mount Holyoke College in the United States and her MPhil and DPhil from Oxford University. She joined the Department in 1992 while completing her DPhil thesis on Soviet ballistic missile defence policy from Stalin to Gorbachev. Her teaching and research spans two broad areas: Russian politics and security and gender and war.
Teaching
Module Coordinator
Coordinator
Tutor
Blackboard Dept Admin
Lecturer
PhD Supervision
Russian politics
Russian security
Civil-military relations
Women and war
Gender and security
Research
Jenny Mathers is currently working on several related projects that focus on different aspects of the ongoing crisis in Ukraine, including a book that examines the crisis from the perspective of feminist security studies. She is also the co-editor (with Veronica Kitchen) and a contributor to Heroism and Global Politics (Routledge, 2018).
Responsibilities
During the 2019-2020 academic year, Jenny is the Department's MA recruitment and admissions officer and is also part of the Department's social media team. She chairs the University's Personal Tutor Working Group.
Office Hours (Student Contact Times)
Wednesday 10:30-11:30
Friday 10:30-11:30
Publications
Mathers, J
2017,
Even the Toys are Demanding Free Elections: Humour and the Politics of Creative Protest in Russia
. in B Beumers, A Etkind, O Gurova & S Turema (eds),
Cultural Forms of Protest in Russia.
1 edn, Taylor & Francis, pp. 105-119.
Mathers, JG
2012,
Women and State Military Forces
. in C Cohn (ed.),
Women and War: Contested Histories, Uncertain Futures.
Polity, Cambridge, pp. 124-145.
Mathers, JG
2010,
The Military, Security and Politics
. in S White, R Sakwa & HE Hale (eds),
Developments in Russian Politics 7.
Springer Nature, Basingstoke, pp. 245-262.
More publications on the Research Portal