World Book Night Haiku Competition 2015
Information Services celebrated World Book Night on 23rd April in the Hugh Owen, Thomas Parry and the Physical Sciences Libraries with a hugely successful haiku competition. Entrants were treated to free cake and biscuits at our stalls, and the haikus were judged by IS staff members Simon French and Ywain Tomos.
For more information on World Book Night, visit: http://www.worldbooknight.org/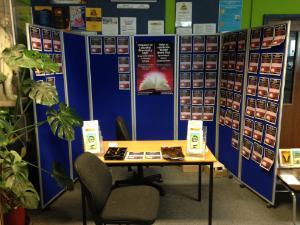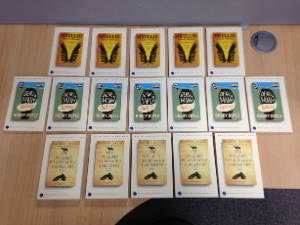 And the winners are...

Thank you very much to all who took part in our World Book Night celebrations this year. We received over ninety entries, and were delighted by the quality, inventiveness, and humour displayed. The winners of the competition, each receiving a set of three books and a £10 student union voucher, are as follows:

Haicw
Haiku

Llythrennau'n llithro

Dros dudalen a chyffro

Sy'n deffro delwedd

(Linus Band)

Shadows from old pages

Light cast on forgotten space

Ancient ghosts emerge

(Kit Kapphahn)

Gweld y byd trwy lyfr

Tocyn rhad i wledydd pell

A hawdd dychwelyd

(Ian Owen)

Nose deep in a book

Loud conversation floats past

Concentration lost

(@coryborytortis)

Llith a llun a llyfr

Tawelwch yn teyrnasu

Sgwennu, gweld a darllen

(Llinos Roberts-Young)

I know that I'll crave

This much reading time when those

Jobs I read for come

(Frances Morgan)
The judge for the English language entries, Simon French, had this to say:
'As someone not given to hyperbole, I would describe the haiku competition that we ran for World Book Night on the 23rd April as an outstanding success! From across our three libraries, and via Twitter, we received a total of 89 entries in five different languages (Welsh, English, French, Korean and Latin).
I'm guessing that chocolate cake in return for a haiku may have acted as an inducement but even with this in mind, there was a great deal of enthusiasm for the competition.'
Thanks to everyone who submitted haiku (each will receive a book) - all entries listed below:
Nose deep in a book

Loud conversation floats past

Concentration lost

Self return receipts

Flutter to the library floor

Like cherry blossom

Old book man slumbers

Surrounded by slow decay

In long lost ages

Collected knowledge

Echoing enlightenment

Whispers of promise

Oh! Librarian,

Cry not over my late book,

I shall pay my fines!

I know that I'll crave

This much reading time when those

Jobs I read for come

Read in Hugh Owen

Have Dickens on beanbag

Keats among the birds

Wikipedia?

Books are more reliable!

To the library!

In darkest corners ~

Books quiver, pages flutter ~

Stories come alive

Writing a haiku

Without planning the last line

Is not a good id-

Old book dust gives me

Irritable vowel syndrome

New lungs needed

(Latin version of 'lines on the Llyfr Du')

Umbra ex cartis

Neume exeuntur

Lucis tenbris

On murmure içi

seules les pages qu'on tourne

ont voix ou chapitre

En lieu de travail

Je vais ecrire un haiku

Pour gagner gateaux

Rheolau syml

Cofiwch. Fyfyrwyr annwyl

Llyfrgell = dim swn

Bant a ni rwan

Amser i weithio'n galed

I'r llyfrau a ni

Ble mae'r gwr heddi

yn yr llyfrgell meddwl

fellai gwyriad

Am lyfrgell, waw!

Hugh Owen, y lle i fod

I weithio, bendant

gwaith, gwaith, mwy o waith

llyfrau a traethodau hir

addysgu hir

Dwi'n dysgu Cymraeg

Un ysgytlaeth sbigoglys!

Un, dau, tri, pedwar

Great place for studies

Big source of information

Access to the computers

Books are so readable

Books are so bloody awesome

I really love books!

This is a haicw

Haicw haicw haicw bam

Haicw is life YO

There is a mountain

I sit below, lamenting

I am lost in life

World book night or day

Take a book along the way

Let it stay in you

Never turn down help

Or free cake for that matter

Cheers, Thomas Parry!

Quiet place to think

And freely develop thoughts

In concentration

Enthusiastic

Conceptualisation

Creativity

AU's libraries

Special collections, Wifi

The past meets the present

Celebrate Book Night

I too can do a haiku

And I want free cake

Candle light reading a book

Book with Wales

April snow on trees dances

Shy when peeps from nearby birch

While library students study

The rare book

Our eyes roll over its hills

Leading to the past

I want a free cake

Library library book

Give me free cake please

Boldly shone thee sun

Bringing brilliance to bluebells

On the woodland floor

Quiet place to work

Comfortable atmosphere

Availability of a range of books

Loads of books

Nice atmosphere

Study with friends

Haiku in Japan

Welsh Metrical tradition

Wow poems worldwide

World book night was fun

Thank you for all your haikus

Winners announced soon

What a wonderful

Thing it is Shakespeare's birthday

Is World Book Night too

The wind lead me there

Oh, that is the library

Let us start reading

(lines on the Llyfr Du)

Shadows from old pages

Light cast on forgotten space

Ancient ghosts emerge

World book day is great

I love reading all the time

I'm learning haiku

I love libraries

Informative and quiet

My favourite place to be

Primo is first rate

Books galore who needs anymore

Reading is for champs!

Concise and structured

Is "Programming in Haskell",

By Graham Hutton

AU Libraries

Study space and lots of books

Come and take a look

Essays in Comp Sci,

A ramble through history

Authors Hoare and Jones

One last stolen glance

Last words whispered in the stacks

Then I close the book

Spring deadlines attacked

My fortress is Level F

With walls made of tomes

The book world has changed

Paper and ink has vanished

Just words on a screen

Stiff leaves in a book

Out there trees are feathering

That's the wonder still

In the library

Late at night with the ghosts of old

Books gave me a fright!

Sit down and enjoy

A book read by the window

The view from HO

A ray of starlight

soundless steps wander into

The unlocked dreamland

Books are full of words

Day is so warm outside then

I want to keep on reading

Pontificating

so averagely

out of boredom

Please don't make me write

Just give me cake quick quick now!

Oh no now I'm fat

What's a library?

Peace, quiet, contemplation

Balm for the vexed soul

Aber is a sunny place

Stuffing chocolate cake in my face

My poem skills are ace

Aber is ABBA

Musical, Fun and Sunny

But in winter sucks

Being a law student

Sleep deprivation and late nights

Should have done Spanish

My computer crashed

Guess I'm here for longer than

Anticipated

Shrek likes onion juice

Aberystwyth likes onions

Aberystwyth love

Are there two or three

Syllables in li-bra-ry?

Can't haiku 'til known

Assuming it's three

If you pronounce correctly

Haikus shall now flow

Tears start to rain

When dry dust reaches the eye

Dust dried from love's death

Trees live two lives

As trees and corpses in balm

Paper, on which we scribe most calm

I love libraries

Because they help me study

And such help I need

Book on time

Book be fine

Words shall rule thee

Once hushed respect, books.

Now wisdom knowledge on line,

Type scan chat eat drink

The worst place to be.

No fun and no games, just books.

Dissertation sucks!

Books are amazing woop

Learning poetry today

Finished seminars

On study diets

Ice cream is all we think of –

We're freezing inside

Step through the portal

A room of books, of magic

A different world

I heard there was cake

As such, here I am, for now

Counting syllables

Sitting here alone

Constantly being passed by

Wondering, just why?

Wide streams of pages

Delightedly draw my soul

In the letters sea

A hoard of new thoughts,

"Intro to Algorithms",

Cormen and others

Dissertation

Awful dissertation

Books are my saviour

Scale, fore, wing and claw

See he stands tall, proud and strong

Hear his trembling roar

I don't want this cake

I just want to be famous

This is my only chance!

What a joy to see

The sun gleaming in the sea

A great day t'will be

Storing our knowledge

For a future no one knows

Winter is coming

Do you want to learn?

Or go on an adventure?

To the library!

Sunshine in our life

Makes happy librarians

And long may it last

All creation calls

But library inspired…

Cake rises, then falls

Library, the home

Where I travel to and from

Thoughts, stories and fun.