Dr Andrea Hammel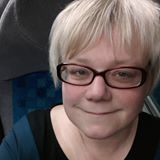 Profile
Andrea Hammel is Professor of German in the Modern Languages Department and the Director of the Centre for the Movement of People at Aberystwyth University. She is the author of Finding Refuge: Stories of the men, women and children who fled to Wales to escape the Nazis (Honno, 2022) and The Kindertransport: What really happened (Polity, forthcoming 2023). She is focusing on research impact and public engagement and leading a project on Refugees from National Socialism in Wales: Learning from the Past for the Future which is funded by the National Heritage Lottery Fund and involves co-curators who are refugees from Syria, Afghanistan and Kuwait. One of its outcomes is an exhibition which has been showing at the Aberystwyth Arts Centre, the Senedd, the Houses of Parliament and in the Pontio Bangor.
Research
Andrea Hammel's research interests include:
the history and culture of refugees from National Socialism
Autobiographies and memoirs
The Kindertransport
Issues of translation
German-Jewish literature and culture
Women's writing.
Dr Hammel is Committee Member of the Research Centre for German and Austrian Exile Studies, IGRS, University of London; member of the Editorial Board of the Yearbook of the Centre for German and Austrian Exile Studies (Rodopi); series aedito of Exile Studies/Exilstudien (Peter Lang); she has received funding from the British Academy, the National Heritage Lottery Fund, Public Health Wales and the Association of Jewish Refugees and Aberystwyth University.
Publications
Hammel, A
2022,
No concession to 'English' taste? Refugees from National Socialism writing in Britain
. in P Tew & G White (eds),
The 1940s: A Decade of Modern British Fiction.
The Decades, Bloomsbury, pp. 249-274.
Hammel, A
2021,
'I Remember Their Labels Round Their Necks': Britain and the Kindertransport
. in T Lawson & A Pearce (eds),
The Palgrave Handbook of Britain and the Holocaust.
Springer Nature, pp. 93-111.
10.1007/978-3-030-55932-8_5
Grosz, A
, Homer, S
& Hammel, A
2020,
Adverse Childhood Experiences (ACEs) and the Child Refugees of the 1930s in the UK: History Informing the Future
. Prifysgol Aberystwyth | Aberystwyth University.
Hammel, A
2019, '
'I believe that my experience began in the womb and was later absorbed through my mother's milk': Second Generation Trauma Narratives
',
German Life and Letters
, vol. 72, no. 4, pp. 556-569.
10.1111/glal.12249
Hammel, A
2019, '
Narrating the Margins and the Center: Kindertransportees' stories of national and religious belonging
',
Shofar
, vol. 37, no. 3, pp. 203-228.
10.5703/shofar.37.3.0203
More publications on the Research Portal