Promoting Welsh Higher Education in Brussels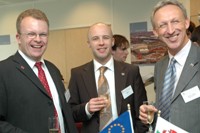 Stephen Lawrence (far right)
Thursday 6 April, 2006
Promoting Welsh Higher Education in Brussels

Stephen Lawrence, Director of Development and External Affairs at the University of Wales, Aberystwyth is the chair of a new organisation created to promote the interests of Welsh Higher Education Institutions (HEIs) in Europe.
Welsh Higher Education Brussels (WHEB) aims to enable the Higher Education sector to engage more fully with European priorities such as the Lisbon Strategy and the Bologna Process and to encourage and support interaction between HEIs, European institutions and regional partners across Europe.
The new body is a collaborative venture between all the HEIs in Wales and is supported by the Higher Education Funding Council for Wales (HEFCW) and Higher Education Wales (HEW).
WHEB was launched last week in Brussels by the European Commissioner for Science and Research, Janez Potocnik. Also speaking were Eluned Morgan MEP and Professor James Lusty, Vice-Chancellor of University of Wales, Newport and the current Chair of HEW.
Professor James Lusty, Chair of HEW said: "The office in Brussels will give Higher Education Wales a higher profile and will provide the universities in Wales with a much enhanced level of interaction and information on current and future opportunities in research and education. It will also provide a source of information for other European Union countries on the many attributes and strengths of Welsh universities"
"Universities sit at the heart of the vision to create a Europe of knowledge and Welsh Higher Education wishes to play its part."
Eluned Morgan MEP welcomed the new organisation, emphasising the importance of working with the EU in order to develop the Welsh economy: "We know that the only way to compete in today's global economy is to concentrate on research and technology. In Wales we already have a great record of using European cash to do this - by building Research and Development infrastructure through techniums.
"Now we must engage even more actively with the EU and utilise its funding opportunities in order to maximise our knowledge-based economy. The WHEB is vital to these efforts. I hope it will serve to help higher education bodies in Wales work together for the good of the whole country."
The European Commissioner for Science and Research, Janez Potocnik said: "By opening an office in Brussels, Welsh universities are recognising the importance of cooperation at European level on research and education as a means of meeting the challenges of Europe's future."
The WHEB will be based in Wales House, 11 Rond Point Schuman, Brussels, B1040.