World's first robotic 'welly wanger'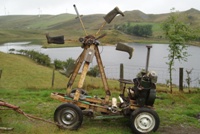 The welly wanging robot
The University of Wales, Aberystwyth, home to the world's first robotic scientist, is set to mark another world first with the debut of the robotic 'welly wanger' at Channel 4's Scrapheap Challenge Roadshow in Dorset on Wednesday 30th August.
Set a challenge of building a mechanised welly thrower using scrap metal and discarded mechanical parts, the team from the Department of Computer Science, which recently launched a new degree course in Mobile and Wearable Computing and is due to take a leading role in a forthcoming European Space Agency mission to Mars, have built a robot capable of throwing a wellington over a distance of up to 80 metres.
Powered by a diesel engine from an old concrete mixer and the gearbox of an old Citroen 2CV mounted on a homemade chassis, team members Richard Shipman, who teaches artificial intelligence, Dr Andy Shaw a researcher in space robotics, and computer technician Ian Izett applied their expertise in robotics and artificial intelligence to improve accuracy, the main criteria for judging the competition.
The wellingtons, up to six at a time, are fired from a 2m diameter computer controlled disc which rotates at up to 250 times per minute. A second computer monitors wind speed and direction and relays the information via a third computer and a radio link to a laptop where team members can monitor its progress.
Speaking as final field trials were set to get underway, Richard Shipman said:
"Other than building the machine itself, the main challenge for us has been getting the computer systems to talk to each other and then to interact with all the hardware. The exercise has been very useful for our research as it's the kind of work we are always doing with robots and autonomous vehicles. Basically this 'welly wanger' is a robot, probably the first of its kind in the world!"
"All that remains to be done now is to teach the robot itself what its capabilities are. It has been built with a certain amount of artificial intelligence and during the final week of field trials it will learn in the same way as a small child learns as it grows up", he added.
The Re-booters, as the team is known, will line up against 15 other mechanical 'welly wangers', including an entry by the Scrapheap Challenge's very own All Stars team, at the Great Dorset Steam Fair on Wednesday 30 August. The competition is due to be broadcast as part of the Scrapheap Challenge series on Channel 4 in the spring of 2007.