Double nomination for Erasmus student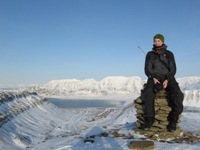 Christopher Lee with UNIS University campus in the backround
Monday 4 December 2006
Double nomination for Erasmus student
Christopher Lee who graduated from Aberystwyth with an MPhys in Physics and Atmospheric Physics in July of this year, has been nominated for two awards at this years UK Erasmus Student awards. The prizes will be presented at a ceremony in London on Wednesday 6 December.

Chris, who is from Shrewsbury, took part in the European Union's Erasmus programme and spent his period of study abroad at the University Centre in Svalbard (UNIS) in the High Arctic, the world's northernmost higher education institution.

The theme for the 2006 awards is "Erasmus in Retrospect – an Academic and Cultural Experience". Each year students who have participated in the programme are invited to submit an essay and/or a series of photographs. Chris is the only student to have been short listed for an award in both categories since the awards were first held in 2002.

Chris is one of 6 finalists out of 80 entries for the photography prize and one of 10 to be short listed for the essay prize out of 120 entries. At the ceremony he will be required to make a presentation on his experiences to a panel of judges that includes representatives from the CBI, the Times On-Line and The National Centre for Languages (CILT). Bill Rammell, Minister of State for Lifelong Learning will give an introductory talk.

Carol Smart is exchange co-ordinator at Aberystwyth:
"Chris' success is excellent news. When students return to Aberystwyth from their time at a partner university they become enthusiastic advocates for the programme. Erasmus offers students an excellent opportunity to continue with their studies whilst learning another language and getting to know another culture."

Aberystwyth offers exchange opportunities with 50 institutions in every European country except Hungary and the Slovak Republic. Currently there are over 50 Aberystwyth students at partner institutions as part of the Erasmus programme and over 100 students from other European institutions at Aberystwyth. The University also offers student exchange opportunities with partner universities in the USA.

During the last academic year 7,131 UK students participated in the Erasmus programme. Over 60 institutions were represented in the entries for this years competition.