Accountancy at Aberystwyth in European Top 20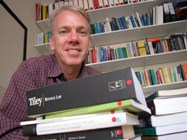 Professor Kevin Holland
Monday 10 July, 2006
Accountancy at Aberystwyth in European Top 20

The latest volume of
Accounting and Business Research
has published the findings of an analysis of publications in nineteen leading internationally recognised accounting journals.
Accounting researchers at the School of Management and Business at the University of Wales, Aberystwyth were ranked 16th in Europe during the period 1991 – 2002 and over the more recent period 1997 – 2002 the researchers were ranked 17th.
Professor of Accounting and Finance Kevin Holland commented that "these results are further evidence of the long tradition of an active and internationally recognised accounting research capability here at Aberystwyth and its continuation to the present".  
Chan, K. C, Chen, C. R. and L. T. W. Cheng (2006), "A ranking of accounting research output in the European Region", Accounting and Business Research Vol. 36. No. 1. pp.  3 – 17.