External Degree celebrates twenty years of graduates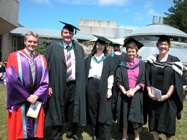 Professor Peter Neal (left) and Ursula Byrne (right) congratulate Jenny Day (centre), Olwen Alexander and Ian Davies on their success.
Tuseday 11 July 2006
External Degree celebrates twenty years of graduates
The first of this year's graduation ceremonies marked an important milestone for the External Degree through the medium of Welsh as it celebrated twenty years of graduates.
Launched in 1980, the first student graduated in 1986 and this year's cohort of 5 brings the total to 88 graduates. The course, which leads to a BA in Welsh or Welsh and Welsh History, attracts students from every corner of Wales and beyond and from every background, with the majority being mature students. Students have up to ten years to complete the course, with lectures taking place on Saturdays with every aspect taught through the medium of Welsh.
'Persistence, commitment and enthusiasm for the subject are the most important qualifications needed to be successful', said Ursula Byrne, External Degree  Co-ordinator, 'and the students that are graduating this year are, yet again, prove the point.' 
This year, as well as celebrating twenty years since the first student graduated, we celebrate excellent results. Of the five students who graduate this year, three have received First Class Degrees in Welsh.
Jenny Day, is a scientist who works part time at the Edward Llwyd centre at UWA. She is about to start studying for a doctorate through the medium of Welsh after receiving a scholarship.
Elizabeth Evans is from Borth, near Aberystwyth. Her achievement is particularly noteworthy as she receives her degree half a century on from graduating the first time with a  First Class BA in English form Cardiff University.
Robin Spey, an American who has lived in Blaenau Festiniog for many years, joins Jenny and Elizabeth in completes the triumvirate of first class degrees awarded this year.
The other graduates this year are Olwen Allender, head of the Welsh department at St Joseph's comprehensive school in Newport, and Ian Davies from Brigend, Ogmore who works at the Museum of Welsh Life at St Fagan's, near Cardiff.
Professor Peter Neil, Director of the School of Education and Life Long Learning said 'The  School of Education and Life Long Learning is very proud of these five students and I would like to extend many congratulations to every one of them on their great achievement'.