Software giant backs new degree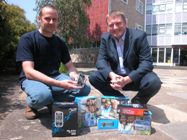 Dr Mark Neal (left) and Dr Andrew Sithers from Microsoft. Microsoft have provided imate-SP5 smartphones (mobile phones with bluetooth), imate-kjam PDA/smartphones (combined phone and PDA with bluetooth) and a mio a701 (combined PDA and phone with bluetooth and GPS) for students on the new Mobile and Wearable Computing course to work with.
Tuesday 27 June, 2006
Software giant backs new degree

The seemingly inexorable rise in the number of small computer devices used by people in their everyday lives has inspired computer scientists at the University of Wales, Aberystwyth to launch a new degree in Mobile and Wearable Computing.
The course, which welcomes its first students at the end of September, has also received the backing of software giant Microsoft which has provided some of the latest commercially available hand held computing equipment for students to programme as part of their studies.
Dr Andy Sithers from Microsoft said:
"Mobile technology really hits the sweet-spot with students – not only are the devices fun and engaging to use, but the real-world demand from employers for these skills is at an all-time high. When combined with the innovative use of the technology we've seen in Aberystwyth, we think the Department of Computer Science there has a great offering for their students."
According to Dr Mark Neal this new course will offer students the opportunity to work with a much wider range of computing equipment than has been the case to date.
"This course is designed to give students a broad range of experiences working with small scale devices which will include anything from mobile phones to global positioning systems to heart rate monitors and radio frequency identification devices (RFID tags), tiny electronic tags used by shops for tracking expensive goods using special tag readers over a range of a few meters," he said.
"Students will learn about how these devices work and perform in everyday situations, how much power they need and how they communicate with other devices and other communications systems such as mobile phone networks. It will also consider the technical and ethical issues relating to privacy and security associated with very small scale devices such as RFID tags which are triggering a revolution in retailing."
"Microsoft's position as a market leader and provider of operating systems and software development environments means that they are able to provide access to some very advanced tools for software development on devices such as mobile telephones and personal digital assistants (PDAs). Their support in providing software through the MSDNAA software licensing scheme and the provision of mobile telephones and PDAs running Windows Mobile 5 gives students the opportunity to get to grips with software development for such devices in a well supported and realistic environment," he added.