The Importance of Space Science for Living Today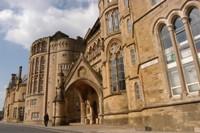 The lecture will be held on Wednesday 8 November
Monday 6 November
The Importance of Space Science for Living Today

Dr Jøran Moen from the Department of Physics at the University of Oslo in Norway will be at the University of Wales, Aberystwyth on Wednesday 8 November to deliver a public lecture on the 'Importance of Space Science for Living Today'.
Speaking ahead of his lecture Dr Moen said:
"Most of us make use of High-Tech products that rely on satellite systems, for example GPS navigation, TV broadcasting, global telecommunication etc. The harsh environment of the satellites and the potential dangers due to disturbance or loss of satellite to ground connections requires more and more accurate space weather forecasts. This lecture gives an introduction to space physics from the perspective of commercial user needs."
This lecture takes place at 5.00 p.m. in the main lecture theatre at the Physical Sciences building and is sponsored by the Institute of Physics, Wales.
During his time at Aberystwyth Dr Moen will also be giving a more specialised talk to students at 12 p.m. in the Honours Laboratory of the Physical Sciences building on the same day about studying at the University Centre in Svalbard (UNIS).
Located on an archipelago of islands in the High Arctic, the University Centre in Svalbard (UNIS) is a state-owned limited company, with the universities of Oslo, Bergen, Tromsø and NTNU in Trondheim represented on the board. Established in 1993, its objectives are to provide university level education in Arctic studies, to carry out high quality research, and to contribute to the development of Svalbard as an international research platform. Its location makes it an ideal venue for laboratory work and also for the acquisition and analysis of specialist data.
The University of Wales, Aberystwyth was one of the first UK universities to establish a link with UNIS. Undergraduate and postgraduate students from the Institute of Mathematical and Physical Sciences and the Institute of Geography and Earth Sciences have been studying at Svalbard for the best part of 10 years.