Student Skills attracts biggest ever sponsor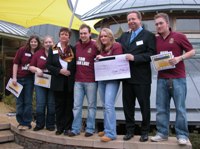 Last year's Law Department winners with Douglas Lamont from RPS Group
Wednesday 22 November 2006Student Skills attracts biggest ever sponsor

The University of Wales Aberystwyth's Student Skills Competition has secured it's biggest ever sponsor, with the RPS Group offering a prize of £1,500 to the winning team.
The final will be held ond the 21st of March 2007, when teams from most of the University's departments will battle against each other for the main prize. This is the only competition of it's kind in Britain.
Each team has to do a ten minute presentation and have a stall at the Careers Fair.  The theme of the event is employability skills, skills they have acquired whilst they have been at university that employers are looking for from them.  The Law Department won the competition last year with their stall 'U Luvs Law'.
Lynda Rollason, the competition's organiser, said:
"Raising sponsorship each year for the Student Skills Competition is a great challenge and it is nice when a company comes along and offers such a good prize.  RPS Groups initial contact with the competition was as a twin with one of the teams.  Once they had attended the event they were hooked and have gone on to sponsor, twin and have a stand at the Careers Fair.  RPS Group has not only supported this event but have gone on to recruit a number of Aberystwyth graduates." 
The teams are twined with companies that help them with printing, photocopying etc, and the hope is that the competitors can meet postgraduates who work with the company to see which skills they need.
During the final round, judges come from all over the country to assess the teams and pick out the winners.  There are two other prizes for Best Stand and Best Presentation.  Best Stand is sponsored by the Army and Best Presentation by BBC Wales.