University Challenge success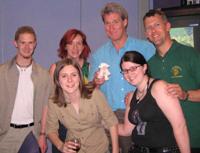 Aberystwyth University Challenge Team
Friday, October 6 2006
University Challenge success
Aberystwyth's University Challenge team are through to the second round of this year's competition following their recent victory over Bristol University.
The team, Adam McCartney (3rd year Film and TV Studies), Heather Charlton (2nd year Genetics), Damon Hammond (3rd year English), captain Josephine Nevill (3rd year History and Politics), and Rae Wright (2nd year Law), will face Merton College Oxford in the next round following their 205 to 195 victory.
Team member Damon Hammond said the experience was "incredible".
"To get through to the televised competition, the Aberystwyth Guild of Students organised a kind of mass-pub quiz in 'Bar 9' on campus for volunteers where the most effective members of each winning team were put into two super teams who slogged it out in order to narrow the field down to ten people. Those people then sat the Granada TV individuals' test, seven of which went up to Birmingham University to undergo the Granada TV shortlisting quiz."
"I found the experience wonderfully surreal: We were up there on the day of the England victory against Ecuador, with Manchester full of fans and riotous celebrations.
"Granada TV was a labyrinth of 1960s corridors and rooms. To be 'made up', then walk into the darkened studio and to meet the dreaded 'Paxo' (who is, unlike his fearsome image, very urbane and relaxed in the flesh) was so unreal that it was not a nervous experience at all.
"To have won was for us (with lowish expectations) an amazing feeling. Later in the evening, having been put up in an hotel by the TV people, we went out into the Manchester night to spend a night in the city of the 24-hour party people. All in all, an incredible experience," he added.
University Challenge was first televised in 1962, and features 28 university teams. The next round of this year's competition when the Aberystwyth team takes on Merton College, Oxford is expected to be show later this year.