Microtransat 2008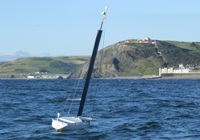 A robotic sailing boat in Cardigan Bay
Friday 31 August 2007Competitors in the world's first transatlantic robot sailing race to test at Aberystwyth

Teams preparing to take part in Microtransat 2008, the world's first transatlantic race for robotic sailing boats, will be at Aberystwyth University for five days of testing and racing next week (2 - 6 September 2007).
Boats from the UK, France, Austria, Canada, Portugal and the USA are expected to take part in Microtansat 2008, a challenge originally conceived by Dr Mark Neal from the Department of Computer Science at Aberystwyth and Dr Yves Briere from the Ecole Nationale Supérieure d'Ingénieurs de Constructions Aéronautiques (ENSICA) in Toulouse, France.
The teams will set sail from Brittany in the autumn of 2008, and the winner will be the first boat to reach a finishing line between the Northern tip of St. Lucia and the Southern tip of Martinique in the Caribbean: a total distance of around 4,000 miles.
Four teams representing the Ecole Nationale Supérieure d'Ingénieurs de Constructions Aéronautiques (ENSICA), Tolouse; The Austrian Association for Innovative Computer Science (INNOC), Vienna; Queen's University, Kingston, Ontario, Canada, and Aberystwyth University will take part in the Aberystwyth event which will be based at Aberystwyth harbour. This is one of a series of events that lead up to Microtransat 2008.
Dr Mark Neal said:
"The aim of the race is to stimulate the development of autonomous sailing boats. This may seem esoteric and trivial, but there are large numbers of applications that would benefit greatly from such robot sailing boats. Observations of remote parts of the ocean are currently made using a combination of moored buoys, drifting buoys and manned research vessels."
"These are all relatively expensive and the use of autonomous sailing robots that can carry scientific payloads to specific locations, make observations without human intervention and then return to the launch point for servicing would dramatically reduce these costs and increase options for scientists. In addition, the challenges in building robots capable of many months of low-power autonomous operation are very similar to those in everything from mobile phones to space craft."
Race entrants must conform to a range of criteria. They must be propelled by the wind, fully autonomous, self sufficient in terms of energy (equipped with solar panels and batteries), no longer than four metres in length and weigh up to 40 kilograms. Additionally, the cost of materials and equipment must not exceed £40,000 / EUR 60,000.
The participants at the Aberystwyth event will be judged on the accuracy and speed of navigation, size, cost and weight, the ability to hold station at a fixed point, automatic safety features, and their ability to remain at sea for long periods of time.
Microtransat 2007 – Aberystwyth

Teams will launch their boats in Aberystwyth harbour and the races and tests will be held out in the bay and will be visible from South Beach and North Beach.

Event schedule
Sunday September 2nd:
Afternoon: Informal testing in the sea for those who wish to test their boats in advance of the race.

Monday September 3rd:
10:00-11:00 - Short race (approx 2km) close to shore.
13:30-18:30 - Longer race (approx 10km) heading further out to sea.

Tuesday September 4th:
Teams attend the UK TAROS conference (Towards Autonomous Robotic Systems) which is being hosted by the Department of Computer Science at Aberystwyth.

Wednesday September 5th:
10:00 - Start of the 24 hour "impress the judges" event in which competitors have 24 hours to demonstrate the capabilities of their boat.

Thursday September 6th:
10:00 - Boats are picked up after the 24 hour event.
12:00 - Judges announce their decisions.