New President appointed
05 July 2007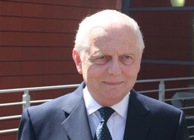 Sir Emyr Jones Parry
Thursday 5 July, 2007
Sir Emyr Jones Parry appointed President of the University
The UK's Permanent Representative to the United Nations, Sir Emyr Jones Parry, has been appointed President of the University of Wales, Aberystwyth.
Sir Emyr, who succeeds Lord Elystan Morgan in the post, was appointed at the University's Council meeting on Wednesday 4 July. He takes up the office in January 2008.
Speaking of his new post Sir Emyr said:
'I am delighted by this honour and I am looking forward to 2008.'
Professor Noel Lloyd, Vice-Chancellor and Principal of the University of Wales, Aberystwyth said:
"I am particularly pleased that a person of such international standing as Sir Emyr has been appointed President. This is an extremely important time in the development of the University and I look forward to working together to ensure its continued development and success. Sir Emyr's experience and eminence will be of great value to the University."
A native of Carmarthenshire, Sir Emyr was educated at Gwendraeth Grammar School, Cardiff University, where he read Theoretical Physics, and St Catharine's College, Cambridge where he gained a PhD in Polymer Physics. He joined the Foreign and Commonwealth Office in 1973 and during a distinguished career has held posts in Canada, at the European Parliament in Brussels and Madrid.
In 2001 he was appointed UK Permanent Representative on the North Atlantic Council, which was followed in 2003 by his appointment to his current post of UK Permanent Representative to the UN, New York. Sir Emyr was made an Honorary Fellow of the University of Wales, Aberystwyth in July 2006.
Notes for the Editor:

The term of office for President of the University of Wales, Aberystwyth is five years, renewable for one further period of five years.
Previous holders of the office are:
Right Hon Henry Austin – 1st Baron Aberdare, GCB, DCI 1874-1895
Right Hon Stuart Baron Rendel 1895 – 1913
Sir John Williams, BT, GCVO, LLD, MD, DSC 1913-1926
Right Hon Lord Davies, MA LLD 1926 – 1944
Thomas Jones, CH, MA, LLD 1944 – 1954
Sir David Hughes Parry, QC, MA, DCL, Hon LLD 1955 – 1964
Sir Ben Bowen Thomas, MA, LLD 1964 – 1976
Rt Hon Lord Cledwyn, CH, Hon LLD 1977 – 1985
Sir Melvyn Rosser Hon LLD, FCA 1985 – 1997
Lord Elystan Morgan, LLB 1997 – 2007.
Back to the top