Joan's doctorate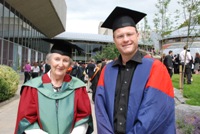 Dr Joan Hughes with Dr Huw Meirion Edwards
Wednesday 16 July, 2008
Dr Joan Hughes
On Wednesday 16 July a rather special student graduated from the Department of Welsh. Joan Hughes, who is originally from Trefdraeth (Newport) Pembrokeshire, was awarded a doctorate at the age of 82 years old.
Joan is one of the mature students on the External Degree. She followed the External Degree programme between 1995 and 2000, and was awarded a BA Honours 2i after a period of intense study. She went on, under the direction of Dr Huw Meirion Edwards, to complete an MPhil dissertation on the Puritan and renowned publisher of the seventeenth century, Stephen Hughes, and graduated for the second time in 2003.
She then turned her attention, still under the direction of Dr Edwards, to a more ambitious study of the life of John Thomas, Rhaeadr Gwy (Rhayader) (1729-1804?). John Thomas was a travelling preacher and minister who came under the influence of the Methodist Revival, and is the author of
Rhad Ras
, one of the first autobiographies to be written in Welsh. Her PhD thesis is a substantial and readable work which sheds new light on one of the most interesting religious figures of the period.
Although he heart remains here in Wales, Joan Hughes left Pembrokeshire in 1946 to pursue a career as a teacher in schools in the south-east of England. She became a headmistress in Bedford before retiring as she turned 60. She is active with the Bedford Welsh Society and the London Welsh Club, and is a faithful member of Cymdeithas y Cymmrodorion which meets regularly in the city.
Her achievement is much more remarkable when one considers how far she is from Aberystwyth. As an undergraduate she would travel here regularly on weekends to attend teaching sessions, and continued to do so as a research student in order to use the National Library's resources and to discuss her work.
Dr Edwards said: "She has been a pleasure to teach and supervise. Her dedication sets an example for students a quarter of her age. She is an inspiration to anyone, whatever their age, who is considering venturing into the world of life long education."