Fluxus 1968-2008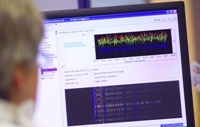 Poster
29 November 2008: 8pm, Castle Theatre, Aberystwyth
(featuring a Fluxclinic 4-6pm and from 7pm)
"The Fluxus Concert was a real success… Slides of cowboy drawings. We pull crackers, burst bags, howl. Somebody chases his mate around the parish hall to hit him. Flux-Pin-Up No. 1 showers down. It is a picture of Brian. …
People howl and throw streamers, and stick coloured papers on their faces, and somehow behind the light Brian throws us another set of instructions. Caution, Art Corrupts."
(John Hall, A State of Flux – John Hall at the Aberystwyth Festival, The Guardian 30 November 1968)

From the 27th to the 29th November 1968, artist Brian Lane came to Aberystwyth with his collaborators, the First Dream Machine, to organize a 3-day Fluxus event. He had been invited by the annual Aberystwyth Arts Festival, a committee that was made up of students from University College Aberystwyth. The participatory and imaginative nature of Fluxus appealed to the organisers who, as they stated in their invitation to Lane, were looking to "reach a wide enough audience" and were "attempting to revitalize the Festival by pushing the idea of Art as Fun, Art as something to be enjoyed".

In response, Brian Lane devised an ambitious programme for Aberystwyth:
a 12 hour concert of electronic music (which featured pieces by Karlheinz Stockhausen, Pierre Henry and Adrian Nutbeem), one of the first Fluxclinics in the country, an international graphics exhibition and a session of Total Theatre. At the heart of the festival was a Flux Concert, featuring performances of now classic Fluxus scores by artists such as George Maciunas, Ben Vautier, George Brecht and Chieko Shiomi. Adrian Glew, curator at the Tate in charge of the Brian Lane Archive, has called the event "seminal", as it "entered the contemporaneous Fluxus canon and the subsequent history of Fluxus in the UK".
In a year in which the revolutionary impetus of 1968 and its legacy is being widely reassessed, we will pay tribute to this seminal example of experimental art practice exactly 40 years after it first occurred. Aberystwyth-based artists will perform their interpretation of the original Fluxus scores used in 1968.

Admission is free. To book tickets visit www.performance-wales.org, tel: 01970 621911.
"...if you don't know what a Fluxconcert is you must come and see for yourself..."
[Brian Lane, 1968]
The restaging is part of What's Welsh for Performance? Beth yw performance' yn Gymraeg? - A major research project aiming to uncover and archive the history of performance art in Wales. The director of the project is Dr Heike Roms, Performance Studies, Aberystwyth University and it is being staged with the support of the Sir David Hughes Parry Awards 2008.

Glossary: FLUXUS:
An international avant-garde group or collective founded and given its name in 1960 by the Lithuanian/American artist George Maciunas; originally for an eponymous magazine featuring the work of a group of artists and composers centred around John Cage. The Latin name means flowing. In English a flux is a flowing out. Maciunas said that the purpose of Fluxus was to >promote a revolutionary flood and tide in art, promote living art, anti-art<. This has strong echoes of Dada with which Fluxus had much in common. The group coalesced on the continent, first in Germany where Maciunas worked for the US Army. Fluxus subsequently staged a series of festivals in Paris, Copenhagen, Amsterdam, London and New York at which activities included concerts of avant-garde music and performances often spilling out into the street. Almost every avant-garde artist of the time took part in Fluxus, such as Joseph Beuys, Dick Higgins, Alice Hutchins, Yoko Ono, Nam June Paik, Ben Vautier, Robert Watts, Emmett Williams, and it played an important part in the opening up of definitions of what art can be that led to the intense and fruitful pluralism seen in art since the 1960s (see eg Conceptual art , Performance art, Film & Video art, Postmodernism). Its heyday was the 1960s but it still continues.