Literary award shortlist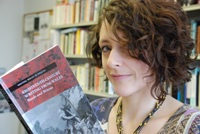 Dr Sarah Prescott
Monday 2 March 2009
Aberystwyth academic short-listed for top literary award
Dr Sarah Prescott, a senior lecturer at the Department of English at Aberystwyth University has been named as one of an all-women shortlist of Welsh writers chosen to compete for one of Wales's top literary prizes.
The four will be vying for the £2,000 Roland Mathias Prize for Welsh writing in English, which will be awarded on March 27 at a ceremony supported by BBC Wales and hosted by Nicola Heywood Thomas, presenter of BBC Radio Wales' Arts Show.
The biennial prize is awarded for a work published during the last two years in the field of poetry, short stories, literary criticism or Welsh history. For the first time, the judges have chosen two works of literary criticism, charting the history of Welsh writing.
Dr Prescott is short-listed for her latest work, Eighteenth Century Writing from Wales: Bards and Britons (published by University of Wales Press). The book is described as bringing together "poems and sermons, travel writing and antiquarianism, translation and prose fiction" which show "the sense of Welsh distinctiveness and strength of national feeling during a period usually characterised as one of Anglicisation".
Also selected are Jane Aaron, Professor of English at the University of Glamorgan, for Nineteenth Century Women's Writing in Wales: Nation, Gender and Identity (also published by the University of Wales Press), Cardiff based poet and a writer of short stories, Sheenagh Pugh, who has been nominated for her latest poetry collection, Long Haul Travellers (published by Seren), and short-story writer Carys Davies, for her collection Some New Ambush (published by Salt).
Menna Richards, Controller BBC Wales, said, "The Roland Mathias Prize makes a major contribution to raising awareness of the high quality of Welsh writing in English. I am delighted that BBC Wales continues to support and celebrate the strength of writing in Wales today."
The Prize was established in honour of the poet and author, Roland Mathias, who died in 2007 and who played a major part in establishing Welsh writing in English as a distinctive literary genre. The two previous winners were poets, Dannie Abse and Christine Evans.
The judges include poet and critic Sam Adams, novelist and poet Chris Meredith, literary historian Moira Dearnley, writer Catherine Merriman and former TV journalist Glyn Mathias.