Top Welsh universities to collaborate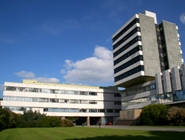 The Llandinam tower
Big five Welsh universities announce their intention to collaborate
Wales' five major universities today announce their intention to act together, combining their strengths and talents to drive forward the knowledge economy in Wales.
Together, Aberystwyth, Bangor, Cardiff, Glamorgan and Swansea Universities represent over 70% of all students in Wales and more than 95% of the nation's research activity. With a combined annual turnover of approaching £1 billion, with a significant contribution from international sources, the big five are a substantial economic generator for Wales.
Working together, Wales' five big research & innovation Universities have declared:
"Wales' development needs to be driven by real innovation. Such innovation will come from the depth and breadth of knowledge that our universities represent. We are already collaborating in fields including sustainable development, primary healthcare services, social recovery policies. We know that, collectively, our staff and our students can offer real help to business, the public sector and to individuals. Our first priority will be to help Wales work its way out of the current recession and, beyond that, to create a vibrant knowledge-led society and economy that puts Wales ahead of the game.
"Our five commitments are:
1 Creativity: We will find solutions to business and individual needs which work and can take effect quickly.
2 Consultation: We will work with business, the voluntary sector and government to determine what are the real priorities for Wales.
3 Capital Investment: We will continue our ambitious capital investment programmes, securing construction jobs and supporting Welsh business by local sourcing of suppliers wherever possible
4 Collaboration: We will work with our international business and education partners to build our vision for Wales. Our extensive contacts, from New York to New South Wales, offer expertise in everything from Architecture to Zoology and will be made available to all in Wales for the benefit of Wales.
 
5 Consensus:  We will be part of a One Wales solution, working with government and other partners to inform and develop economic and social policy
"We firmly believe that by building on the intellectual capital and academic excellence of our universities, we can help Wales create an innovative and dynamic economy and a just society for the 21st Century."
Welsh Assembly Government Education Minister Jane Hutt said: "The Welsh Assembly Government is committed to partnership working and collaboration across the public sector in Wales. It therefore very much welcomes the Welsh Universities announcement and sees it as a clear sign of the determination of those universities to work in partnership in order to ensure that Wales develops its reputation as world class in research, innovation and development."
The five Vice-Chancellors and their staff are now working together to identify areas where their collective strengths can have an effect. These include:
Research. The universities account for 96% of quality research funding from the Higher Education Council for Wales. Existing partnerships between the five include the new Wales Institute for Social and Economic Research Data and Methods, which is addressing de-industrialisation in Welsh communities. Future partnerships will build on the major strengths of the five, revealed in the independent 2008 Research Assessment Exercise, where more than half of the five's 2,325 academics were assessed as conducting world-leading or internationally significant work.
Business Services. The five universities account for 70% of Wales' Knowledge Transfer Partnerships, which make academic knowledge and skills available to improve the competitiveness of local business. The universities plan to accelerate growth in the number of partnerships, along with further development of business training, professional development and consultancy services.
Students. The universities are a significant provider of skills, with the equivalent of more than 50,000 full-time undergraduates and around 13,000 postgraduate students. There is already co-operation between the five on widening access programmes, to encourage undergraduate applications from families where no-one has been to university before. This will be built on, along with programmes of scholarships and bursaries, to deliver a workforce which maximises the talent and potential of the Welsh people.
International. With a combined total of around 7,000 international students, the five universities offer an important "shop window" on Wales for the world. The universities' overseas profiles will be vital in convincing global companies that Wales is a place they can do business with.