Welsh National Mooting Competition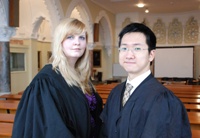 Miss Laura-Pauline Adcock (Lead Counsel) and Mr Eric Lee (Junior Counsel) who will be representing Aberystwyth at the Welsh National Mooting Competition.
Aspiring barristers from four leading Welsh universities will be challenging for the title of 2009 Welsh National Mooting Champions at Aberystwyth University on Wednesday 25 March.
Teams from Cardiff Law School, the University of Glamorgan's Law School, Swansea University Law School, and the Department of Law and Criminology at Aberystwyth University will be putting their advocacy skills to the test in a one day competition which is being sponsored by the legal publisher and information provider LexisNexis.
The winners will be decided by Mr Carwyn Jones, Counsel General and Leader of the House, and Minister for Assembly Business and Communications at the National Assembly of Wales.
The knockout rounds will be presided over by Mr Robert Hanratty of Hanratty & Co Solicitors, Newtown, Powys and Mr Andrew Perkins, Barrister at Law and Lecturer at Swansea University.
Moots, where two pairs of 'advocates' argue a fictitious legal case in front of a 'judge', have been part of legal education for centuries. In the 15th Century the Inns of Court would use mooting as a means of teaching young barristers the rigours of advocacy. Success, however, does not necessarily result from winning the legal case, but rather from the quality of the presentation of the legal arguments.
The Welsh National Mooting Competition forms part of Aberystwyth University's Advocacy Week which has been developed by the Aberystwyth Mooting Society. Final year Law student Christopher McFarland, Chair of the Aberystwyth Mooting Society said; "This will be the first time that a national inter-varsity mooting competition has been held in Wales.
"Not only is this unique event an excellent opportunity to foster links between Welsh universities and the legal profession in Wales, but it is also a valuable opportunity for students to moot competitively – in this way it provides yet another reason for prospective students to study and practice law in Wales."
Representing Aberystwyth will be Miss Laura-Pauline Adcock (Lead Counsel) and Mr Eric Lee(Junior Counsel), who currently lead Aberystwyth University's own internal mooting competition which is organised by the Society. The competition takes place at the University's Old College with proceedings set to start at 4.00 p.m.
On Friday 27 March 2009 Aberystwyth University will be hosting the latest round of the 2009 Oxford University Press & BPP National Mooting Competition when Aberystwyth take on the University of Nottingham. Lead Counsel Mr Rhonson Salim and Junior Counsel Mr Scott Preece will be looking to secure a place in the semi-final following victories against Birmingham City University and the University of Westminster.
The week's activities kick off with a mock trial,
R v. King
which takes place at the Main Hall of the International Politics building on Monday 23 March. Proceedings for this case, which are open to the public, will start at 9 a.m.
Welsh National Mooting Competition programme

3.00pm                  Opening Ceremony, lunch buffet and tour of the Old College.
4.00pm                   Knockout Rounds
Cardiff University v Swansea University - Council Chamber
Aberystwyth University v University of Glamorgan – Old Hall Lecture Theatre
5.15pm                   Grand Finalists' exchange of skeleton arguments and bundles.
6.30pm                   Grand Final, University Council Chamber, Old College
8.30pm                   Evening Dinner Buffet and Closing Ceremony.