Copenhagen and Climate Change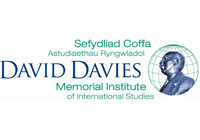 David Davies Memorial Institute of International Studies
An important one-day symposium on climate change is being hosted by Aberystwyth University, on Friday 6 November, ahead of the United Nations Climate Change Conference which is set to take place in Copenhagen on 7th and 8th of December.
Entitled "Copenhagen and Climate Change: The Stakes; The Politics", the symposium is being organized by the David Davies Memorial Institute of International Studies which is part of the Department of International Politics at Aberystwyth. It will examine all sides of the debate and where this increasingly important international issue is heading in the future.
Speakers include the internationally renowned scholars of environmental policy and green politics, Professor Robyn Eckersley and Professor Peter Christoff of the University of Melbourne, both of whom are currently based at the University of Oxford, and Ian Clark, E. H. Carr Professor at the Department of International Politics and a member of the David Davies Memorial Institute of International Studies.
Professor Ekersley is the author of
The Green State: Rethinking Democracy and Sovereignty
and was recently elected a Fellow of the Academy of Social Sciences in Australia. Dr. Christoff has previously worked as Assistant to the Commissioner to the Environment in Victoria and is the past director of Greenpeace Australia-Pacific.
The symposium will close with a round table discussion featuring Sir John Houghton, former Chief Executive of the Met Office and former co-chair of the Scientific Assessment for the Intergovernmental Panel on Climate Change, Sir Emyr Jones-Parry, former British Permanent Representative to the United Nations and President of Aberystwyth University, and Dr Marek Kohn of the University of Brighton. The session will be chaired by Professor Nicholas J. Wheeler, Director of the David Davies Memorial Institute of International Studies.
Professor Wheeler said: "This is the perfect time for a symposium on climate change. Steady media coverage and the United Nations summit in Copenhagen indicate that interest is high, and that world leaders are seized of the global urgency of the issue. Climate change is also a reminder of the legacy of Lord Davies, in particular his emphasis on justice and cooperation, and on finding international solutions to international problems."
The symposium has been made possible in part because of the generous funding provided by the Gwendoline and Margaret Davies Charity, Commercialisation and Consultancy Services at Aberystwyth University, and the ESRC.
This event is free and open to the public. Those interested in the symposium are encouraged to inform Dr. Grant Dawson of their plans to attend at
gsd@aber.ac.uk
.