Carwyn James extension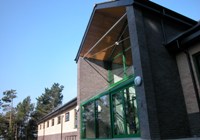 The Carwyn James Building
Carwyn James extension
Work has started on the construction of a £1.3m extension to the Carwyn James Building, home of the Department of Sports and Exercise Science.
The project will see a further eight teaching and research laboratories added to the ten housed within the current building, with work expected to be completed by summer 2010.
The project also features the installation of a new two lane 400 metre performance standard running track around the all weather sports pitch opposite the Sports Centre. This will replace the current single lane tarmac track.
Two new items of equipment that represent an investment worth £750,000, a DXA scanner and a new motion capture system, are being installed in the Department as part of the development.
The DXA scanner, a whole body dual-energy X-ray scanner which uses low doses of X-rays to measure muscle, fat and bone mass and density will be used for both health research and applied sport science. Led by Dr Jo Wallace, researchers will study changes in bone density and body composition that occur in response to physical activity, exercise and changes in diet to combat obesity and osteoporosis.
The new motion capture system, 'Motion Analysis', will provide the basis for biomechanical research in both sport and exercise contexts. One study is focusing on strength and balance exercise programmes for older people in order to reduce the risk of falling. This work is being led by Dr Samantha Winter who is collaborating with the Falls Clinic in the Leri Day Ward at Bronglais Hospital.
Professor David Lavallee, Head of Department, said:
"These developments reflect the growth the Department has experienced over the past eight years. The new facilities are about enhancing our research and giving students more practical experience. Increasingly many Sports Science departments are focusing more on theoretical aspects and less on practical work. Here the focus is more on learning by working in laboratories, a feature we believe accounts for the very high student satisfaction ratings we consistently achieve."
Two new members of staff have joined the Department for the new session.
Biomechanist Dr Edward Chadwick joins AU from the University of Salford. A post doctoral researcher for the past 10 years, Dr Chadwick is an expert on upper-limb rehabilitation.
Psychologist Emily Oliver is completing doctoral studies in sport psychology at Bangor University. Her work focuses on how psychological skills enhance sporting performance.
The Department of Sports and Exercise Science was established in 2002. From an initial cohort of 15 undergraduate students the Department now has 220 full time equivalent undergraduates, 12 postgraduate students and a teaching staff of 11.