Institute of Biological, Environmental and Rural Sciences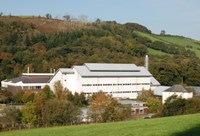 IBERS Gogerddan
The Institute of Biological, Environmental and Rural Sciences (IBERS) at Aberystwyth University has announced proposals to restructure in order to deliver its vision to be a sustainable, world class institution.
The announcement was made by the Director of IBERS, Professor Wayne Powell, at a meeting of IBERS staff at the University's Llanbadarn Campus today, Friday 5 February.
The proposals will see a focusing of resources so that the Institute is able to meet new scientific and financial challenges, and build on its reputation as a world leader in its field.
IBERS is pressing ahead with a multimillion pound capital development programme that will provide state of the art teaching and research facilities at both the Penglais and Gogerddan campuses. It is also creating 13 new strategically important posts.
Professor Wayne Powell said; "With these developments IBERS is positioning itself to be at the forefront of cutting edge scientific research. This will enable IBERS to take full advantage of exciting developments in science, and align our activities to current global challenges, whilst continuing to meet the needs of public and private sector partners and research funders."
"The new appointments, coupled with the development of the new facilities, will provide fresh impetus as we work to improve the quality, volume and impact of our research", he added.
In its current form IBERS is expected to face a funding deficit reaching £2.4m by the end of the 2011/12 Financial Year. This is in the context of estimated reductions in public funding of at least 15% over 3 years. In order to avoid such a situation, the Institute has identified the need to lose up to 70 existing full time equivalent posts. These will include technical, support, teaching, and research staff.
The proposals will be presented to the Council of the University on Friday 12 February. A 30 day consultation period with staff and Unions commences today the 5th of February.
It is hoped that the majority of job losses within IBERS will be achieved by means of redeployment within the University, voluntary redundancy and voluntary early retirement. However, compulsory redundancies cannot be ruled out. The process is expected to be completed by the end of March 2010.