Aberystwyth at Westminster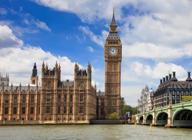 Westminister
Aberystwyth University congratulates newly elected MPs

As the Westminster Parliament reassembles following the General Election, twelve Aberystwyth University alumni (four Conservative, two Labour, three Liberal Democrats, two Plaid Cymru and one Independent) have been celebrating election victories.
Professor Noel Lloyd, Vice Chancellor of Aberystwyth University said: "The University is proud of its alumni and their achievements and we are delighted that the University is so well represented at Westminster by its graduates.
"I am sure that the experiences gained during their time at university have strongly influenced their career paths and I would like to think that Aberystwyth University, and the diverse experiences available here, have helped them to achieve their current leadership roles. I, and everyone at the University, congratulate them and wish them every success in the future."
Aberystwyth alumni MPs

Guto Bebb MP
(Conservative) has been elected to represent the new constituency of Aberconwy in North Wales. Mr Bebb is a BA History graduate (1990) and, prior to his election, he ran his own economic development consultancy in addition to being the Business Development Director of Innovas Wales.
Rehman Chishti MP
(Conservative) has been elected to represent the Gillingham and Rainham constituency. An Aberystwyth University Law graduate (2000), Mr Chishti worked as a barrister in London prior to his election this year.
Glyn Davies MP
(Conservative) has been elected as MP for Montgomeryshire. He lost his seat at the last Welsh Assembly Government election in 2007 having served as a regional AM for eight years. At the age of 50, Mr Davies chose to study for a Diploma in International Law and Politics at Aberystwyth University.
Jonathan Edwards MP
(Plaid Cymru) is the MP for Carmarthen East and Dinefwr. Mr Edwards holds a BSc Econ in History and Politics (1997) and an MSc in International History. Before his election, Mr Edwards worked as a Chief of Staff for Rhodri Glyn Thomas AM and Adam Price MP.
Stephen Gilbert MP
(Liberal Democrat) was elected to the new constituency of St Austell and Newquay. An International Politics graduate (1998), he became Cornwall's youngest ever Councillor when elected in 1998 at the age of 21. Mr Gilbert was a business consultant working in Cornwall before entering Parliament in May this year.
Lady Sylvia Hermon MP
(Independent) has been the MP for the constituency of North Down since 2001, first elected for the Ulster Unionist Party (UUP), but now an Independent. A Law graduate (1977), she was a lecturer at Queens University, Belfast for a number of years before becoming involved in politics in 1993.
Elfyn Llwyd MP
(Plaid Cymru) has been an MP since 1995 for the Meirionydd Nant Conwy constituency and was re-elected as a Plaid Cymru MP for the newly created constituency of Meirionnydd Dwyfor. An Aberystwyth University Law graduate (1974), Mr Llwyd has also worked as a solicitor and barrister.
Dan Rogerson MP
(Liberal Democrats) has been the MP for North Cornwall since 2005. During the last Parliament he was the Liberal Democrat Shadow Minister for the Environment, Housing, Arts and Heritage and, more recently, Local Government. A graduate of International Politics (1996), Mr Rogerson has also worked in local government.
Chris Ruane MP
(Labour) was elected to Parliament in 1997 and is an MP for the Vale of Clwyd. A History and Politics graduate (1977), during the last Parliament he worked as PPS to Peter Hain. Mr Ruane was previously a primary teacher and Deputy Head Teacher.
Col Bob Stewart MP
(Conservative) has been elected as the MP for Beckenham. With a background in the Services, in 1974 the Army selected him to come and study for an International Politics degree at Aberystwyth. Following his Services career, which saw him working as a British United Nations Commander in Bosnia, for which he was awarded the Disgtinguished Service Order, he worked as a freelance writer, broadcaster and lecturer.
Gareth Thomas MP
(Labour) entered Parliament as an MP for Harrow West in 1997. During the Labour government he was the Minister of State, Department for International Development. An Economics graduate (1988) he was the Minister who introduced draft legislation to ban smoking in cafes and restaurants.
Mark Williams MP
(Liberal Democrat) has been re-elected as the MP for Ceredigion, the constituency for Aberystwyth University. A graduate of Politics (1987), Mr Williams entered Parliament in 2005 and was previously a Deputy Head Teacher for Llangors School, Powys.