New Welsh Language iPhone, iPad and iPod touch app launched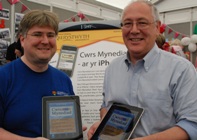 Neil Taylor (left) and Professor Chris Price at the launch of the Cwrs Mynediad app at the Eisteddfod.
A new application for the iPhone, the iPad and the iPod touch, which helps people to learn Welsh, was launched on the Welsh Learner's stall, Maes D, at the National Eisteddfod on Wednesday 4th of August.
Professor Chris Price and Neil Taylor, both Welsh learners from Aberystwyth University's Computer Science Department, have been working with the WJEC (previously the Welsh Joint Education Committee) to develop the new app for Welsh learners. The new program supports adults who attend Welsh lessons by providing a mobile application for the Cwrs Mynediad book.
Professor Price commented: "At last year's Eisteddfod I launched Welsh Lessons, a Welsh phrasebook for the iPhone which included simple phrases and lessons for Welsh learners. I didn't expect many people to be interested in it, and thought it would sell a few hundred copies. In fact, the enthusiasm with which people learning Welsh use new technology surprised me, and Welsh Lessons has sold over 8000 copies since last summer."
Since the launch of the app, Professor Price has received numerous commendations from across the globe. An American lady with a Welsh family wrote to him to tell him that she was now, thanks to his app, learning Welsh for the first time. A Greek man has been in touch to request that "I love you" be added to the key phrases so that he can declare his love to his Welsh girlfriend. A parent has also been in touch to tell the Professor how he and his child enjoy sitting at the kitchen table learning Welsh together.
Professor Price explains, "Because of the success of Welsh Lessons, we talked with the WJEC about making the Cwrs Mynediad material available in computer based formats. We have therefore spent part of this year developing an iPhone app which accompanies the learner using Cwrs Mynediad throughout the three-year journey of using the book. Like the book, it is split into units, and each unit covers all of the patterns, exercises, vocabulary, dialogues and grammar in the book."
The app is not a replacement for the Cwrs Mynediad book but is intended to help Welsh learners practice their Welsh when out and about and will be available from iTunes in time for the start of the new term.