Work starts on new buildings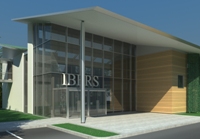 An artist's impression of the new IBERS building on Penglais.
Work has started on the construction of new state of the art research and teaching facilities at IBERS.
On the Penglais campus the foundations are being laid for a new two storey teaching a research block which is expected to be completed by late 2011.
Linked to the Edward Llwyd and Cledwyn buildings at first floor level, the building is expected to achieve a BREEAM Excellent rating (BRE Environmental Assessment Method) and be heated using a ground source pump that will draw heat from underneath Pantycelyn field.
The mature oak trees which stand next to the site are being retained.
At Gogerddan work on a new Phenomics facility, including the first greenhouse facility of its kind in the UK, is expected to start in November.
Once completed, the new facility will represent a step-change for IBERS, enabling scientists to collect data from large numbers of plants in months rather than years.
It will also become the centrepiece of a new Institute for International Plant Breeding that will include a laboratory and accommodation for visiting academics and an enterprise hub for the agricultural, food, bio-renewables and land-based industries.
Covering an area of 2000 square meters, the facility is also expected to achieve a BREEAM Excellent rating, with heating provided by a biomass boiler.
Together both projects represent an investment of £25m with funding provided by the Welsh Assembly Government and the Biotechnology and Biological Sciences Research Council (BBSRC).
Further information about both projects, including web cams and walk-through images, are available online at www.ibers-projects.co.uk.