Marine biologist honoured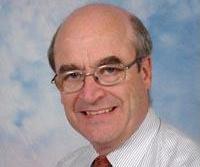 Dr John Fish
Dr John Fish from the Institute of Biological, Environmental and Rural Sciences has been awarded the MBE for services to the fishing industry and the marine environment in the New Year Honours List.
A marine biologist, Dr Fish joined Aberystwyth as an assistant lecturer at the Zoology Department in 1965, becoming a senior lecturer in 1980. He was appointed Director of the Institute of Biological Sciences in 2002, a post he held until 2007, and was Dean of Science between 2006 and 2008.
The emphasis of Dr Fish's research has been on coastal and estuarine ecology and the management of inshore fisheries. For a number of years he worked on stock abundance and management of lobster fisheries in Cardigan Bay and more recently has been working closely with local fishermen on the sustainable management of the economically important Cardigan Bay prawn fishery, research which is on-going.
The practical nature of the work is reflected in the strong links he has established with the inshore fisheries of Wales through the Cardigan Bay Fishermen's Association and the Welsh Federation of Fishermen's Associations.
Between 1993 and 2005 he was chairman of the North Western and North Wales Sea Fisheries Committee – a Welsh Office ministerial appointment, and of the Association of Sea Fisheries Committees of England and Wales between 1995 and 2005.
Speaking of the award Dr Fish said; "I was both surprised and delighted to be appointed MBE. It is a great honour to have my work recognised in this way. I am particularly pleased the citation refers to both the fishing industry and services to the marine environment as this acknowledges the work I have been doing with colleagues and research students over many years."
Professor Wayne Powel, Director of IBERS, extended his congratulations. "I and my colleagues at IBERS are delighted that Dr John Fish's work has been recognised by the award of an MBE. He is a longstanding colleague who has made a significant contribution to Aberystwyth University and this award provides further recognition of his outstanding contribution to aquaculture in Wales and internationally", he said.
Although retired, Dr Fish continues to teach part time on undergraduate and postgraduate programmes at IBERS. He has also recently completed work on the third edition of the textbook A Student's Guide to the Sea Shore, which he has co-authored with his wife Susan, and which is due to be published next week by Cambridge University Press.

AU0111