New halls of residence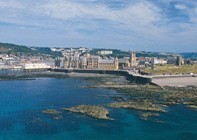 Aberystwyth University
Aberystwyth University has initiated the process of procurement for new halls of residence that will provide accommodation for 1000 students in modern self-catering accommodation.
On Tuesday 8th March, the University issued a contract notice via the Official Journal of the European Union inviting expressions of interest from potential developers.
The University is seeking partners and innovative solutions to meet the need to continue to provide excellent accommodation for its students into the future.
The potential development would represent an increase of 500 beds on current levels as well as replacing existing accommodation, and will provide an opportunity to further develop the unique experience Aberystwyth has to offer. The development will feature enhanced learning and communal zones in keeping with Aberystwyth's progressive approach.
The development, subject to planning, will be located on Penglais farm, on land immediately behind the existing award winning Pentre Jane Morgan student village. Construction of the new halls is not expected to commence until the autumn of 2012 at the earliest.
The construction cost of the project is expected to be in the region of £40m to £45m.
Rebecca Davies, Pro Vice-Chancellor at Aberystwyth University said:
"Aberystwyth offers one of the best student experiences in the UK. This project represents the biggest single strategic element of the University's strategic plan and underlines its commitment to improving the quality of the accommodation it has to offer to students with an emphasis on self-catering en-suite facilities."
"The issuing of the contract notice this week represents the first step for the project and is about seeing who might be interested in undertaking the work."
"As the process unfolds, as well as working closely with the local community and planners, the University will be engaging with student representatives to ensure the new halls provide the living experience, in terms of social and technological facilities, that future generations of Aberystwyth students will expect."
AU5511