The Creation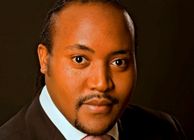 "Winner of the Kathleen Ferrier Competition, Njabulo Madlala, returns to sing with Aberystwyth Choral Union for The Creation on 12th March"
The ever popularCreation is coming to Aberystwyth Arts Centre on Saturday 12 March. Performed by the University Choral Union, with top class soloists and orchestra, it is not to be missed. The Creation  brims over with melody and is as fresh and inventive now as the day it was written. Haydn was inspired by the large choral works and choirs he heard on his last visit to Britain and decided to write something similar of his own. His Creation was an instant success and soon became the rage with choirs everywhere.
Choral Union's concerts are always a high-point of the musical season. Soprano Katherine Fuge is well-known for her performances of The Creation. The press described her recent performance in Frankfurt as "magnificent" and at the Edinburgh Festival as "outstanding . . . soaring with clarity and honey". Tenor James Geer's recent appearances include Glyndebourne, the Royal National Scottish Orchestra and Messiah with Sir David Willcocks at the Albert Hall. Baritone Njabulo Madlala made great impression when he sang with Choral Union last year. Since then he has won the prestigious Kathleen Ferrier Competition – undoubtedly a rising star to watch. The performance will be conducted by Aberystwyth University's well-known Director of Music, David Russell Hulme.  
The concert starts at 8pm and tickets are available for as little as £3.50 – even less for accompanied children. This is going to be a great evening of live music. Nothing beats the experience of actually being there when the music happens. Be part of it all. Be at The Creation this 12th of March!
AU4811