Healthy oats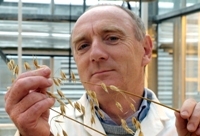 Dr Athole Marshall
Scientists in Aberystwyth University are developing new varieties of a traditional crop which could help lessen the danger of heart disease.
This is one of the health benefits of a chemical called beta glucan, which is found in oats, a crop that can cope with the poorer agricultural land and the wetter climate of areas like west Wales.
Beta glucan can help trap cholesterol and stop it from entering the bloodstream, so experts at the University's Institute of Biological, Environmental and Rural Sciences (IBERS) are breeding varieties of oats with higher beta glucan content.
"There are clear benefits to human health", said the scientist leading the research, Athole Marshall. "Lowering cholesterol is the most obvious of these".
"This will make oats more attractive as a crop in Wales and other parts of the UK where it has traditionally been grown. Our research will offer new opportunities for farmers."
The research work involves developing techniques for measuring the beta glucan content of different varieties of oats and then crossing the most promising of those.
It is vital that the new varieties also have a high yield in order to maintain farmers' profit levels.
Trials are being carried out on the different oat varieties at Aberystwyth, and also in other areas like Scotland, so that they can be tested under different weather and soil conditions.
The hope is that the new varieties of winter and spring oats will be on the market for farmers within the next few years.
IBERS has an international reputation for developing new varieties of oats and many of the Institute's products are international market leaders.
"This is another example of the way that high quality scientific research is being carried out at IBERS in order to provide direct benefits for farmers and consumers in the UK", said the Institute's Director, Professor Wayne Powell.

IBERS
The Institute of Biological, Environmental and Rural Sciences (IBERS), Aberystwyth University, was established in April 2008 following the merger of the Institute of Grassland and Environmental Research, formerly part of the Biotechnology and Biological Sciences Research Council (BBSRC), with Aberystwyth University. IBERS continues to receive significant funding for research from the BBSRC and benefits from financial support from the Welsh Assembly Government, DEFRA and the European Union.
Around 300 research, teaching and support staff conduct basic, strategic and applied research in biology from the level of genes and other molecules to the impact of climate change and bio-energy on sustainable agriculture and land use.