Birdsong researcher on The One Show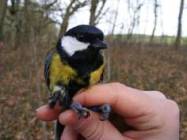 A great tit
On Wednesday 23rd of March, Dr Rupert Marshall from the Institute of Biological, Environmental and Rural Sciences, appeared on the BBC's The One Show.
Dr Marshall and NERC funded PhD student, Millie Mockford, were invited onto the programme to discuss their current research into the song of the great tit.
Specifically, Dr Marshall's research focuses on why birds sing at a higher pitch in the presence of man-made noise, and what effect this might have on the ability of male singers to attract a mate.
The segment runs from 24 mins until 28 mins into the show and is available to watch for free over the next five days at: http://www.bbc.co.uk/programmes/b00zw62b#synopsis.    
If you would like to learn more about Dr Marshall's research, visit his website at: http://users.aber.ac.uk/rmm/urbansong.htm.