"Morality, Religion and Politics"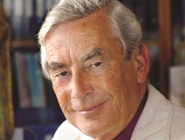 Lord Richard Harries of Pentregarth
Lord Richard Harries of Pentregarth will deliver the Sir D O Evans Memorial Lecture on Monday 9th May 2011.
The subject for Lord Harries' lecture will be "Morality, Religion and Politics".

The lecture will take place at the Main Hall of the Department of International Politics at 7.00 p.m.
Lord Harries was Bishop of Oxford from 1987-2006. On retirement he was made a Life Peer and he continues to be active in the House of Lords.
He is Gresham Professor of Divinity, and also an Honorary Professor of Theology at King's College, London.

An author of a number of books, Lord Harries has a particular interest in the interface of Christian faith and the wider culture, including the arts. His most recent books are The Re-enchantment of Morality (SPCK), Faith in Politics? Rediscovering the Christian roots of our political values (DLT), Issues of Life and Death: Christian faith and medical intervention (SPCK), and Reinhold Niebuhr and Contemporary Politics, ed. with Stephen Platten, (OUP).
Since 1972 Lord Harries has been a regular contributor to the Radio 4's Today programme.