Graduate contribution from 2012-13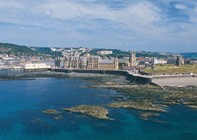 The Old College
The Council of Aberystwyth University met this morning to consider the appropriate level of graduate contribution, and the detail of the fee plan to be submitted to the Higher Education Funding Council for Wales (HEFCW), setting out how revenues will be allocated consistent with the guidance issued by the Funding Council.
The Council needed to ensure that future revenues substituted for any phased reduction in government support, were invested in capital and teaching infrastructure to maintain a competitive position, covered the expected effects of inflation, and in particular were aligned with the priorities of the Welsh Assembly Government and the Funding Council.
Aberystwyth offers high quality provision and has an excellent record for student satisfaction, and these must be protected and enhanced. Above all we must ensure a sustainable, internationally competitive Aberystwyth University.
HEFCW requirements specify that at least 30% of the revenue above a level of £4000 be used to further the goals of widening participation, enhancing the student experience and contributing to the Welsh economy.
We recognise the deeply felt concerns of students about the direction of policy. The University has sought to take account of the views of the students' representatives, and they will be closely involved in developing and implementing the Council's decision.
The Council concluded that a fee level of £9000 per annum was necessary and confirmed the evidence which would now be worked up in detail, with specific targets, for submission in the fee plan by 31 May.
Professor Noel Lloyd, Vice-Chancellor of Aberystwyth University said:
"Higher Education is experiencing rapid change and uncertainty; in particular, the funding model will from 2012/13 be radically different to what has gone before."

"With this announcement today we are underlining our commitment to widening opportunities for all students, to contribute to social justice and to be able to offer robust packages of support that ensure that students who apply to Aberystwyth will be supported at all levels of their study through to graduation."

"Our aim is to produce highly employable students, to offer them excellent facilities for learning, teaching and residence, and for their studies to be guided by staff who are able to engage in world class research with cutting edge technology. We need to ensure that students who choose to come to Aberystwyth enjoy provision of the highest quality."
AU10311