High Peformance Computing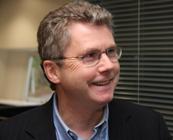 David Craddock
David Craddock, Director of Enterprise and Collaborative Projects at Aberystwyth University, has been appointed Chief Executive of HPC Wales.
David, who has also been acting Chief Executive of HPC Wales, heads up the £40 million project which will provide a world-class super computing network, a research and innovation institute and a skills academy.

During his time as acting CEO David helped set up a special purpose vehicle and manage the interim team of managers from six university partners across Wales (Cardiff, Swansea, Aberystwyth, Bangor, Glamorgan and the University of Wales Alliance Universities).
He also played a lead role in the original team that developed the vision and business plan for HPC Wales and secured £40m funding from BIS, Welsh Assembly and EU Convergence.
Speaking of the project, David said: "'HPC Wales is an incredibly ambitious project that plans to provide user-focussed project services and training in high performance computing for researchers in businesses and universities that aims to speed up the innovation of new products and services.
"It is a unique collaborative venture in that the universities, with support from the Welsh Assembly, Welsh European Funding Office and UK Government, have joined forces to establish a charitable company that will deliver the project over the next four years. The challenge over that period will be to deliver economic benefit and to establish a sustainability plan that takes us beyond the funding period."

The project now enters a key phase following the announcement that global technology giant Fujitsu is the successful bidder to partner with the universities in Wales to create the computer project, which will stretch to the four corners of Wales and have a reach across the rest of the globe.
The contract is worth £15 million over four years to Fujitsu, who will provide infrastructure and services along with subcontractors Microsoft and Intel.
On Wednesday 11 May, David and Professor Noel Lloyd, Vice-Chancellor of Aberystwyth University and chairman of the special purpose vehicle set up to manage and govern the project gave a presentation on HPC Wales to an audience of MPs, Peers and Vice Chancellors at Westminster.
One of the principal beneficiaries of the services HPC Wales will provide will be the Earth Observation Unit at Aberystwyth University, which is headed by Professor Richard Lucas at the Institute of Geography and Earth Sciences.

The Earth Observation Unit works closely with Aberystwyth-based company Environment Systems Ltd who provide leading edge consultancy and services in geographic and environmental information. 
Professor Lucas said: "Many of the datasets exploited in our research are large. Data from the spaceborne optical and radar sensors that we use are available over entire countries (e.g. Australia, Chile) and continue to be acquired on a regular basis. These time-series datasets offer unique insights into the past and present state of landscapes and can allow us to understand, model and predict changes that might occur in the future. HPC will allow us to fully exploit existing and newly collected data and give us greater confidence in taking on larger projects that will benefit a wide range of users."
AU10611