Creative Unit competition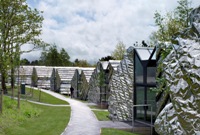 The creative units
Are you an individual looking for studio/workshop space to develop a new business or community enterprise idea, or are you an existing early stage creative business which has been trading for less than two years?
Do you have an existing link to Aberystwyth University (as a student / member of staff / alumni) or does the business have the potential to develop links and be part of the growing creative community at Aberystwyth Arts Centre?
Returning for the third year, this exciting competition offers a year's rent free studio space from August 2011, in one of the Award winning Creative Units at Aberystwyth Arts Centre.
"The 'Year in a Creative Unit' competition is open to business or community enterprise ideas based on any of the Creative Industries including film, tv, new media, performing arts, visual arts, applied arts and literature" explains Tony Orme, Enterprise Manager at Aberystwyth University.
The winner will benefit from modern and flexible studio space in one of the sixteen Creative Units at Aberystwyth Arts Centre, which is Wales' largest arts centre and recognised as a 'national flagship for the Arts'.
Alan Hewson, Director of Aberystwyth Arts Centre, said:
"The competition offers an exciting opportunity for a new company to become part of the creative community at the Arts Centre and to work with the other resident arts businesses and artists in our award winning Creative Units."
Applications will be reviewed by a panel and those shortlisted will be invited to pitch their business idea in a 'Dragon's Den' style forum.
Previous winners of the 'Year in a Unit' competition are Lisa Young of Lisa Young Ceramics and Ric Lloyd of Cleftec Digital. Lisa Young has recently exhibited her work in the Arts Centre, an opportunity which has arisen since establishing her business in a Creative Unit in August 2010. Ric Lloyd, the winner of the inaugural competition in 2009, made the decision to stay on as a resident company at the Creative Units and is established as part of the creative community on campus. Cleftec works in the field of music engraving, CD/DVD/Blue-Ray production and music services.
Working in partnership with Aberystwyth Arts Centre, the competition is coordinated by Commercialisation and Consultancy Services (CCS) at Aberystwyth University.
For full details of the competition, visit: www.aber.ac.uk/year-in-a-unit
Alternatively, contact Tony Orme, Enterprise Manager, Aberystwyth University awo@aber.ac.uk / 01970 622203.
The deadline for the submission of applications is 17.00 Friday 24th June 2011. 
AU11911