Green Computing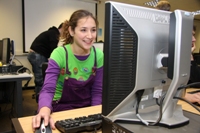 Green Computing
Between 13.00 and 14.00 on Friday 20th May, Tim Davies and Rob Johnson from Information Services will give a talk in Hugh Owen room A14 on the JISC-funded PAWS (Powerdown and Wake System) project, a computer program that saves electricity by turning off idle computers.
Speaking earlier this year about the project's success to date, Rob Johnson of Aberystwyth's Information Services department said: 'PAWS Mark 1 has already saved in the region of £25,000 in electricity costs and of course more importantly approximately 185 tonnes of CO2 emissions since its inception in July 2010. We hope to at least double this saving by deployment on Staff computers and more so by deploying to other institutions'.
Both Mr Johnson and his colleague, Tim Davies, will use this opportunity to describe the next phase of this project's development and the impact that it could have on electricity savings University wide.
AU12011