Gideon Koppel appointed as Professor of Film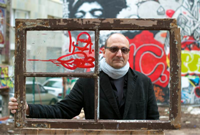 Professor Gideon Koppel
The Department of Theatre, Film and Television Studies at Aberystwyth University has appointed acclaimed film maker and artist, Gideon Koppel, as Professor of Film. Koppel, who is also an Associate Fellow of Green Templeton College, University of Oxford will be taking up his post within the Department in September 2011.
Professor Koppel's research interests lie between the blurred boundaries of documentary film and fine art. His focus within the Department will be the further development of creative media practice, in particular documentary film making at undergraduate and postgraduate levels.
Dr Jamie Medhurst, Acting Head of Department at the Department of Theatre, Film and Television Studies said: "Gideon brings with him a wealth of experience and amazing insight to the film industry and the film making process specifically. In our department, we pride ourselves in placing great emphasis on innovation and I'm confident Gideon's appointment will prove invaluable to our students and the department as a whole."
Professor Koppel, a graduate of the London College of Communication and the Slade School of Fine Art, was previously Course Leader of the MA in 'Documentary by Practice' at Royal Holloway, University of London. His prolific work as a film maker and artist has been broadcast internationally and exhibited in galleries worldwide, from MoMA in New York to the Tate Modern in London. His most recent film 'sleep furiously' with a soundtrack by Aphex Twin, was nominated for a Golden Leopard at 2008 The Locarno International Film Festival and then became one of the most critically acclaimed British films of the year, winning The 2009 Guardian First Feature Film Award.
Commenting on his new role, Mr Koppel said: "I'm thoroughly looking forward this new challenge and especially to working with the next generation of film makers in Wales. Aberystwyth University has a very well-established and reputable Theatre Film and Television Studies Department and I am delighted to become a part of it."
AU17411