Daniel Owen Memorial Prize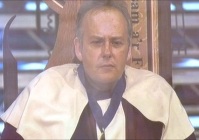 Daniel Davies, Winner of the Daniel Owen Memorial Prize (photo BBC)
Daniel Davies, an Aber graduate who went on to complete a PhD in Chemistry, is the winner of the 2011 Daniel Owen Memorial Prize.
Daniel received the prize, which is awarded for an unpublished novel of not less that 50,000 words, at the National Eisteddfod in Wrexham on Tuesday 2 August.
His novel, 'Tair Rheol Anrhefn', follows two scientists who work at the University's Chemistry Department. They discover a liquid crystal which will revolutionise the television industry worldwide but become the focus of attention for two international companies who are desperate to discover their secret.
The novel is inspired by the work of adventure writers like John Buchan (The 39 Steps), Donald E Westlake (The Hot Rock) and Herman McNeile (Bull Dog Drummond), and films like 'North by Northwest' and 'Three Days of The Condor'.
'Tair Rheol Anrhefn' is Daniel's fourth novel. Like all his work, it deals with the battle to ensure personal freedom in a society which insists that we are tied to the capitalist system in which we live.
Daniel works as an online journalist with the BBC.