Prose Medal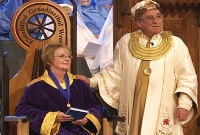 Manon Rhys presented as the winner of the Prose Medal (picture BBC).
On Wednesday 3 August, and for the second time this week, a former student of Aberystwyth University has won one of the major prizes at this year's National Eisteddfod in Wrexham.
Manon Rhys graduated in Welsh at Aberystwyth and now lives in Cardiff. Writing under the pseudonym 'Sitting Bull', she was awarded the Prose Medal for a volume of creative prose, of no more than 40,000 words on the theme 'Rebellion'.
Speaking on behalf of his co-adjudicators, Hazel Walford Davies and Branwen Jarvis, Grahame Davies said, "We were not unanimous in our decision to award this work, but we all agreed that this sensitive and abstaining story was the strongest in the competition.
"This is a skilful and sleek writer, who grasps the emotion, is intelligent, a master of dialects, and who trusts the imagination of the reader. This is a talented writer, with an original voice and a gripping story. On the basis of these unmistakable strengths, we invite Sitting Bull to receive the Prose Medal at this year's Eisteddfod."
Amongst her many publications are Cwtsho, Tridiau ac Angladd Cocrotshen, Y Palmant Aur trilogy, Cornel Aur, and the novel, Rara Avis, which reached the Book of the Year shortlist in 2006. She edited the collections of stories, Ar Fy Myw and Storîau'r Troad and the poem collection, Cerddi'r Cymoedd, and she also appreciated the opportunity to work with Professor M. Wynn Thomas, editing J. Kitchener Davies: detholiad o'i waith, a complete collection of her father's works. For ten years, she co-edited the literary magazine, Taliesin, with Christine James.
She has written a number of TV scripts, including popular series like Almanac, Pobol y Cwm, Y Palmant Aur and the films, Iâr Fach yr Haf and Toili Parcmelyn.
She was a Creative Writing Tutor at the School of Welsh in Cardiff University and an occasional tutor at the Tŷ Newydd Creative Writing Centre. She is currently writing a follow-up to Rara Avis.
Fellow Aber alumnus Daniel Davies took the Daniel Owen Memorial Prize on Tuesday 2 August with his novel Tair Rheol Anrhefn.
AU19511