Mobile Apps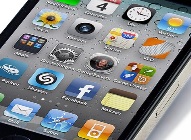 Apps on an iPhone
With Apple selling more than $2 billion worth of Apps last year, a figure that is forecast to increase to anything from $15 to $38 billion by 2015, Apps are becoming big business and an essential part of mobile communications.
On the 7th to the 9th of September Aberystwyth University will host the UK's first conference for the developers of apps for iPhones and iPads.
iOS DEV UK (www.iosdevuk.com) is being organised by Professor Chris Price from the Department of Computer Science, himself a developer of apps for learners of Welsh.
Over 170 delegates, mostly from the UK, are expected to attend the three day event at Aberystwyth. However, there has also been significant international interest with developers from Belgium, Sweden, Switzerland, Israel, Finland, Holland, Ireland and the USA expected to make the journey.
Conference speakers include Dave Addey, Managing Director of Agant Limited, developer of the award-winning UK Train Times App, Alasdair Allan, author of Learning iPhone Programming and Programming iPhone Sensors from O'Reilly Media, and Dave Wiskus, Chief Creative Officer of US based Black Pixel, one of the world's premier iOS design and development shops.
There will also be an opportunity to hear from young developers Max and Josh Scott-Slade who make up JohnnyTwoShoes, creators of the very popular pirate adventure Plunderland.
The conference will also see the developers voting on what they consider to be the best apps. Categories include: Best Game App, Best Leisure App, Best Business/Productivity App, Best Education App, Best Information Presenting App, Best App Development App, Best desktop App Development Program and Best Social Networking App. Voting is set to take place at 10.00 am on Thursday 8 September.
Speaking ahead of the conference Professor Price said:
"When Apple launched their iPhone App Store in 1998, they started a revolution in mobile phones. Before that date, very few people expected their phone to be able to do anything except make phone calls, send texts or maybe surf the Web.
"Last year Apple sold more than $2 billion worth of Apps and over half of the phones sold in the USA this year will be smartphones - capable of helping you plan your wedding, navigate in your car, select and book a hotel or a restaurant, track your weight, keep your diary, and a thousand other useful functions.
"The UK has been making a contribution to this growing industry, with healthy numbers of Apps being created and sold. The aim of this conference is to bring together the people in the UK that are actively causing this revolution, and to share experience to make us more competitive in building Apps that are changing the world."
Full conference details, including a conference app are available online at www.iosdevuk.com.
AU21011