The Danger of Software Patents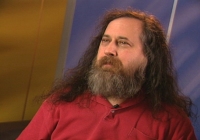 Dr Richard Stallman
On Monday 31 October, Dr Richard Stallman, President of the Free Software Foundation will address an audience at Aberystwyth Arts Centre.
During his talk, organised by the Department of Computer Science at Aberystwyth University and the mid Wales branch of BCS, Dr Stallman will explain how software patents obstruct software developments. He will describe how software patents cover software ideas restrict the development of software, so that every design decision brings a risk of getting sued. He will also compare how patents in other fields restrict factories, but software patents restrict every computer user and how economic research shows that they even retard progress.
Dr Stallman is a leading expert in the field of software development. He launched the free software movement in 1983 and started the development of the GNU Operating System (see www.gnu.org) in 1984. GNU is free software where everyone has the freedom to copy it and redistribute it, as well as to make changes either large or small. The GNU/Linux system, which is basically the GNU Operating System with Linux added, is used on tens of millions of computers today.
In recognition of his work, Dr Stallman has received the ACM Grace Hopper Award, a MacArthur Foundation fellowship, the Electronic Frontier Foundation's Pioneer Award, and the the Takeda Award for Social/Economic Betterment, as well as several honorary doctorates.
The talk is open to everyone and is held at the Theatre of the Arts Centre at 4.10pm. Further details can be found at www.aber.ac.uk/en/cs.