Lord John Morris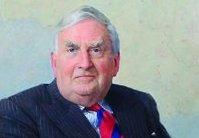 Lord John Morris.
On Friday 28th October 2011, Lord John Morris will recall highlights from a remarkable career in politics and law that has spanned over half a century. This special event will be held at the Main Hall, Department of International Politics, at 5.30pm, preceeded by a reception to be held in the foyer of the building from 5.00 pm onwards.
Lord Morris was a minister in the governments of Harold Wilson, James Callaghan, and Tony Blair, and served as Attorney-General when Tony Blair's government supported the controversial NATO mission in Kosovo in 1999. A Member of Parliament for over 40 years, he is one of the longest-serving MPs in the history of Wales, and has recently published his autobiography.
The event is organised by Aberystwyth's Welsh Politics Society and all are welcomed to the reception and following discussion. The event will be held in Welsh with simultaneous translation facilities available. Questions may be asked in English or Welsh during the discussion period.
AU27111