Australian Art and Artists in London, 1950-1965: An Antipodean Summer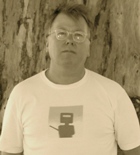 Dr Simon Pierse, Lecturer in Fine Art at the School of Art.
A distinct vision of Australian identity by expatriate Australian artists will be highlighted in a book by Dr Simon Pierse from Aberystwyth University's School of Art.

Australian Art and Artists in London, 1950-1965: An Antipodean Summer, due to be published on 1st of November, is a culmination of ten years of research by Dr Pierse, focusing on British perceptions of Australian art and identity.

The book, published by Ashgate, includes archival material, letters and photographs previously unavailable either in Britain or Australia.

Following the recent 'Australian Season' at the British Museum, An Antipodean Summer is a timely contribution to the current reappraisal of Commonwealth art and renewed interest in Australian art.  Dr Pierse's study provides a cohesive historical narrative, focusing on the two decades following the Second World War.
 
"It deals with a transitional period in British and Australian art history," explains Dr Pierse. "At this time Britain was emerging from the aftermath of the war and a young Queen Elizabeth II was forging a new relationship with Australia through the Commonwealth."

Dr Pierse was a Sir Robert Menzies Bicentennial Fellow in 2000-2001 and based at La Trobe University Melbourne. He has returned to Australia on many occasions over the past decade, contributing to the understanding of Australian art history by directly recording the experiences of surviving artists and art critics.

Dr Simon Pierse recently attended a Royal Reception at Buckingham Palace prior to the Queen's visit to Australia during October. Here he had the opportunity to meet Dame Anne Griffiths, the Duke of Edinburgh's archivist, with whom he discussed the significant role of members of the Royal Family as Patrons of Australian art.
Australian Art and Artists in London 1950-1965: An Antipodean Summer will be officially launched at the Menzies Centre for Australian Studies, King's College London, early in the New Year.

AU26111